WWE NXT Again Draws Highest Viewership Since 2020 On Strength Of Main Roster Stars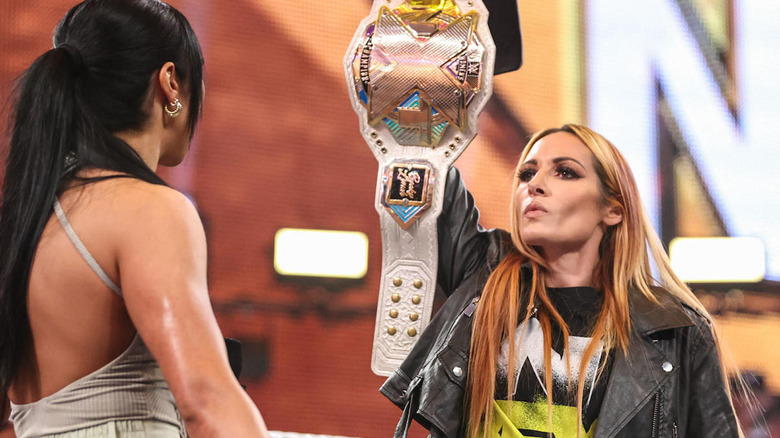 WWE.com
WWE's main roster continues to be a shot of adrenaline to the Tuesday night ratings, as "WWE NXT" once again did major numbers with the return of Becky Lynch and Dominik Mysterio.
Wrestlenomics is reporting that "WWE NXT" saw a 35% jump in overall viewership on Tuesday, with 857,000 tuning in despite competition from postseason Major League Baseball — higher than Lynch's initial "NXT" return a few weeks ago and the show's highest total viewership since October 28, 2020. The 18-49 demographic was up 23%, with 289,000 viewers from that highly-coveted demographic. The highest-rated segment from last night's show was the overrun, which that featured the conclusion of now-former "WWE NXT" North American Champion Trick Williams' unsuccessful title defense against Dominik Mysterio, with 928,000 tuning in to see Mysterio recapture the belt at Rhea Ripley's behest. The lowest-rated segment for the 18-49 demographic was the tag match between Gallus and British Strong Style, while the overall audience was lowest for the beginning of Williams vs. Mysterio.
The show did plenty to set next week up for success as well, with the announcement that the October 10 episode will see appearances from Asuka, Cody Rhodes, Paul Heyman, and multi-time WWE Champion John Cena. "NXT" will be up against "AEW Dynamite," which will be presenting a special "Title Tuesday" edition of the program, rekindling the "Wednesday Night Wars" of 2020, when the two programs were regularly battling for market share on the same night. WWE seems to be loading up the show with main roster stars, on top of Mysterio, Ripley, and Lynch, who have been buoying the ratings with their presence on the developmental program.