Cody Rhodes Isn't Liaison To AEW Talent, Says He's Excited To Have Jade Cargill In WWE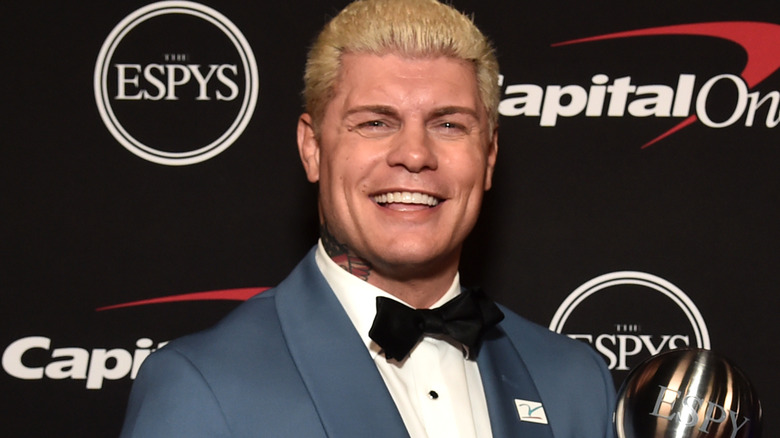 Alberto E. Rodriguez/Getty Images
Shortly after signing with WWE, former AEW TBS Champion Jade Cargill revealed that Cody Rhodes' presence in the company was one of the leading factors that persuaded her to make the move to WWE. Last night, Cargill made an appearance on the WWE Fastlane kickoff show — the same premium live event Rhodes later won the Undisputed WWE Tag Team Championships with alongside Jey Uso. During the WWE Fastlane press conference, Rhodes shared his thoughts on Cargill's arrival to WWE
"I was very excited for her to make this jump and very proud," Rhodes said. "Jade came from the Nightmare Factory, but I didn't train her. I'm going to tell people in the future when I write my book, maybe I did, but no, QT Marshall and Carolyn Cuellari set her up. They trained her and they've helped her to get the spot where she took this big leap. So, I'm just very proud. Now, the work begins. There is a mindset here at WWE that did not exist, maybe it did and I didn't notice it, but didn't exist when I was here the first time. It is the most team-minded group that I've ever seen, as far as the show comes together. This is an individual business. It's tricky, it's political, it's show business. That team mindset, what we have, has proved so fruitful. Now, I just hope she can rise to the challenge and the occasion. I think, for sure, she'll be able to."
When asked if he had chatted with other AEW stars about potentially coming aboard to WWE, Rhodes clarified that he has no intentions of being the liaison between his former colleagues and WWE. Rhodes asserts that everyone's circumstances are different, and ultimately, he hopes that every talent chooses the path they believe is best suited for them.
If you use quotes in this article, please credit the WWE Fastlane Press Conference and provide an h/t to Wrestling Inc. for the transcription.