Jeff Jarrett On Why Billy Gunn Was His Father Jerry's Favorite Former Member Of DX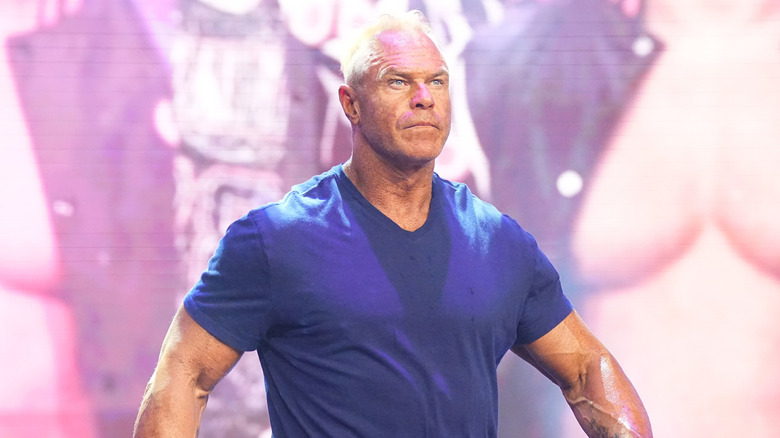 AEW
D-Generation X remains one of WWE's most popular factions of all time — an achievement that was recognized through an induction into the WWE Hall of Fame in 2019. While DX reached success as a unit, each member also carved a unique for themselves. 
During a recent episode of "My World," WWE Hall of Famer Jeff Jarrett explained why Billy Gunn, specifically, caught the attention of his father, legendary promoter Jerry Jarrett.
"Out of all the members of DX, Billy was my dad's favorite. I'm like, 'What?' He goes, 'I'm telling you, son.' I said, 'No, I get it.' He goes, 'It's a special kind of talent.' Brian [James] was the talker, [introducing the stable with], 'Ladies and gentlemen, boys and girls,' but the spontaneous, ad lib [of Billy] ... my dad would say he knows how to fill in the blanks," Jeff said. "He knows how to be — can't call him dumb blonde because he's a big badass dude that has 'Badass' Billy Gunn. He just kind of knew that temperament."
"To have the sense of timing and [Billy] knew how to fill in the blanks of everything else, [Jerry] said, 'There's a real talent.' He said not only real talent, super, super valuable," Jeff added.
While Jerry Jarrett applauded Gunn's natural improvisation ability, Jeff Jarrett previously stated that Brian "Road Dogg" James was the most creative member of DX. Together, Gunn and James served as a subset of DX, known as The New Age Outlaws, who became six-time WWE Tag Team Champions.
If you use quotes in this article, please credit "My World" and provide an h/t to Wrestling Inc. for the transcription.