Trish Stratus Explains How And Why Zoey Stark Became Her WWE Backup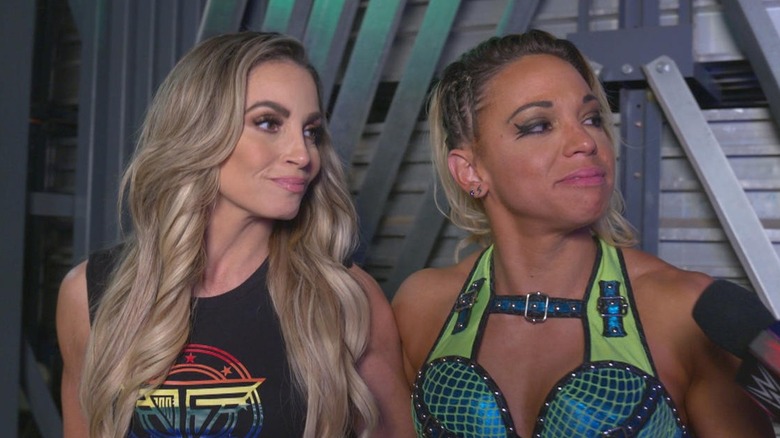 WWE
Trish Stratus' most recent WWE run saw her gain Zoey Stark as a protege, and that decision was made to give her a little muscle, which was something that enhanced Stratus' overall character.
"Hunter and I talked about it at one point, not necessarily Zoey," she revealed on "The Hall Of Fame" show. "We were talking about me being a bit of a chicken sh*t heel, and what could I do. Back in the day, I had Tyson Tomko and I hid behind him." 
She admitted that Stark was chosen because she was ready to go to the next level and had proven herself in "WWE NXT" during her time in the developmental brand.
"They brought her in, I loved the idea, we were super excited about the surprise element," Stratus said on Stark's Night Of Champions appearance. "It was kind of just another part of the story to be like, 'Surprise.' Another turn that you didn't expect."
Stratus made it clear that while she likes to return for a personal challenge, she still wants to give back to the industry. Considering the fact she is a Hall Of Famer and a seven-time Women's Champion, she brings a certain level of star power that others can benefit from, which was certainly the case for Stark as it instantly brought attention to her on the main roster.
"Working with Becky is one thing, but I'm not giving her the rub, she's Becky Lynch," Stratus said. "When I got to work with Zoey and having the ability to do the stuff we did on Tough Enough. Even when I left, I know we don't like each other right now, but we are still in touch. I want to help her."
If you use any quotes, please credit "The Hall Of Fame" with a H/T to Wrestling Inc. for the transcription.