Matt Cardona Explains Why He 'Hated' Working With Mojo Rawley In WWE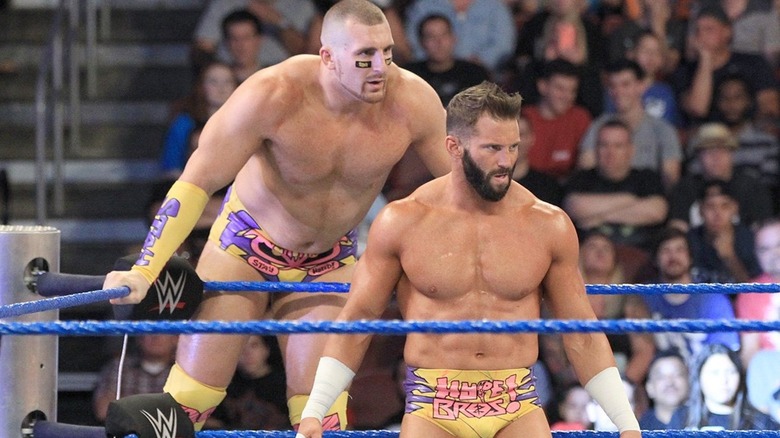 WWE
While competing as Zack Ryder in WWE, Matt Cardona was briefly paired with Mojo Rawley. Their short-lived team, The Hype Bros, didn't experience much success in the company, but it wasn't a happy time behind the scenes either. In fact, Cardona told the "Off Her Chops" podcast that he "hated" being part of this particular duo.
"It sucked... At first, it was an opportunity and I took it as an opportunity, went to NXT, alright, let's f***ing go. Me and Mojo, we both f***ing tried... We were told we were going to be down in NXT for a couple of months and they called Mojo up, but that never happened. So I was doing the WWE schedule, the NXT schedule, then I ended up winning the IC Title at WrestleMania, I'm like, 'Oh good, thank god.'"
However, their tenure as a team didn't quite end there. Cardona recalled getting injured and watching Rawley win the Andre the Giant Battle Royale, which made him hopeful that they'd stop being paired together. However, WWE put them back together after the Superstar formerly known as Zack Ryder returned to action.
"I come back just to be with Mojo again. You've got to be f***ing kidding me. It's nothing against him, I just f***ing hated it."
Earlier this year, Cardona confirmed that Hype Bros will never reunite, suggesting that he has bad memories of that era of his career. What's more, Cardona previously said that he knew Hype Bros was doomed from the start.
If you use any quotes from this podcast, please credit "Off Her Chops" with a h/t to Wrestling Inc. for the transcription.