Bully Ray Says AEW Star Reminds Him Of Ahmed Johnson And New Jack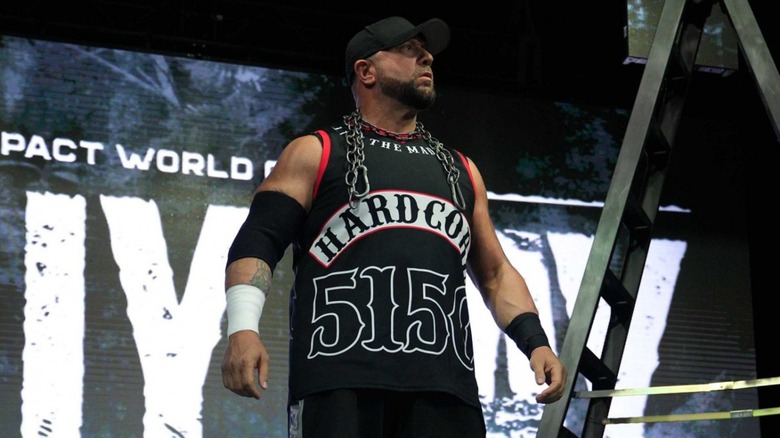 Impact Wrestling
Powerhouse Hobbs has taken on new life after his surprise attack on Chris Jericho and Kenny Omega. On the recent "Busted Open Radio," WWE Hall of Famer Bully Ray thinks that having Hobbs attack two huge stars puts him on a new level, one that might fulfill his enormous potential.
"Hobbs looks extremely impressive ... Hobbs reminds me of a mix of Ahmed Johnson and New Jack. You might be scratching your head on that one but trust me, that's a hell of a mixture," Bully Ray opined. "The physical, imposing stature and just bad mothertrucker of an Ahmed Johnson ... with that mix of New Jack — that unpredictable edginess that could get you at any moment." Bully Ray doesn't believe New Jack gets enough credit for the character he created, due to the nature of the man behind the persona.
Much like his approach to the current storyline with Adam Copeland and Christian Cage, Bully believes AEW needs to be patient with Hobbs, saying that they should wait months before putting him in a feud with a babyface. Instead, Bully Ray would like to see Hobbs wreaking havoc on AEW programming, perhaps knocking out one or two AEW talents along the way. 
"Get that character to a point where you know when he shows up that something is gonna happen," Bully Ray said matter of factly.
Hobbs's attack on Omega and Jericho likely aligns the former TNT Champion with The Don Callis Family, which has grown recently with the addition of Sammy Guevara.