Shinsuke Nakamura Hits Go To Sleep On WWE Raw Amidst CM Punk Return Speculation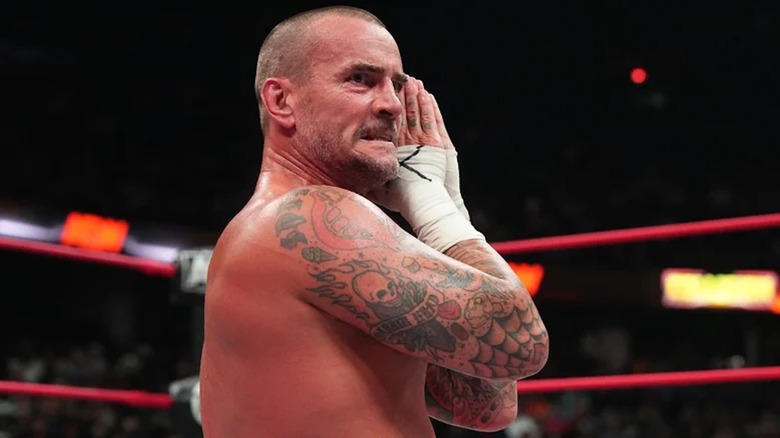 AEW
As speculation runs wild regarding a potential CM Punk return to WWE, perhaps as soon as November's Survivor Series in his hometown of Chicago, sleuthing wrestling minds have noted a few cryptic Punk-related teases on WWE programming of late, a few of them throughout the Shinsuke Nakamura/Seth Rollins feud. Monday night's potential tease, however, wasn't very cryptic at all.
Prior to the triple threat match to determine the number one contender for GUNTHER's Intercontinental Championship between Ricochet, Chad Gable, and "Big" Bronson Reed, Nakamura interrupted Ricochet's entrance, attacking him on the ramp and very noticeably dropping him with a Go To Sleep, the longtime finishing move of none other than CM Punk. While the GTS has been used by others in WWE, most notably by KENTA (fka Hideo Itami) throughout his time in "WWE NXT" and elsewhere, it isn't part of Nakamura's normal repertoire and fits with the other teases we've seen over the past few weeks. Corey Graves referenced a famous quote from Punk during the October 6th edition of "WWE Smackdown," reciting, "The greatest trick the devil ever pulled was making the world forget that he existed" during the graphics package for Nakamura vs. Rollins at "Fastlane." Rollins himself dropped a "best in the world" reference on "WWE Raw" earlier in the feud, and Michael Cole harkened back to another old Punk promo, telling Rollins his many personas over the years could very well include "puppeteer" among them.
Whether Punk does make a WWE return is anything but official, but the Easter eggs, seemingly, continue to be dropped.