WWE SmackDown 10/06/2023: 3 Things We Hated And 3 Things We Loved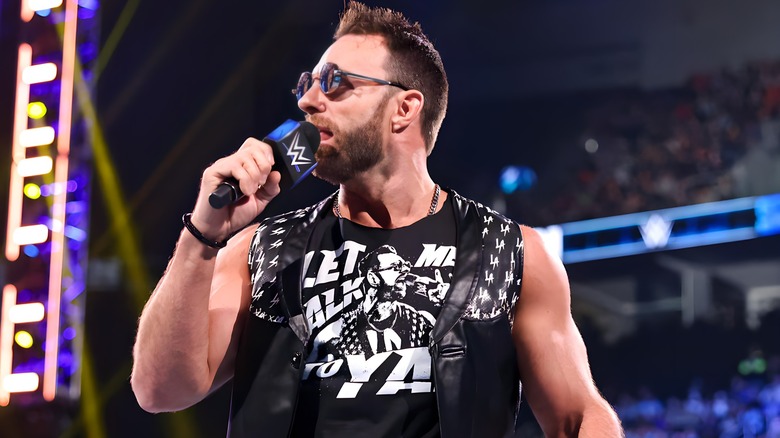 WWE
Welcome to Wrestling Inc.'s utterly unequivocal review of "WWE SmackDown," the show that has already pretty much convinced all of us to acknowledge Rhea Ripley. Pretty sure Rhea beats Roman Reigns right now in any acknowledgement contest. Anyway, it was the go-home show for WWE Fastlane, and while no new matches or segments were added, leaving us with just five, one of them got a significant tweak while almost all the others got some kind of story advancement — most notably WWE's two biggest heel stables combined to form some kind of super-stable, presumably.
Now, what did the WINC writers and editors think about the formation of The Bloodline Day? Or possibly The Judgeline? The Bloodment Judge? Something like that. If such subjective, unscientific opinion is what you're looking for, you've come to the right place. For pure objectivity, check out our live coverage; for the opposite of that, here are three things we hated and three things we loved about the 10/6/23 episode of "WWE SmackDown."
Hated: Can Charlotte just go to AEW or something (Miles Schneiderman, WINC senior lead news editor)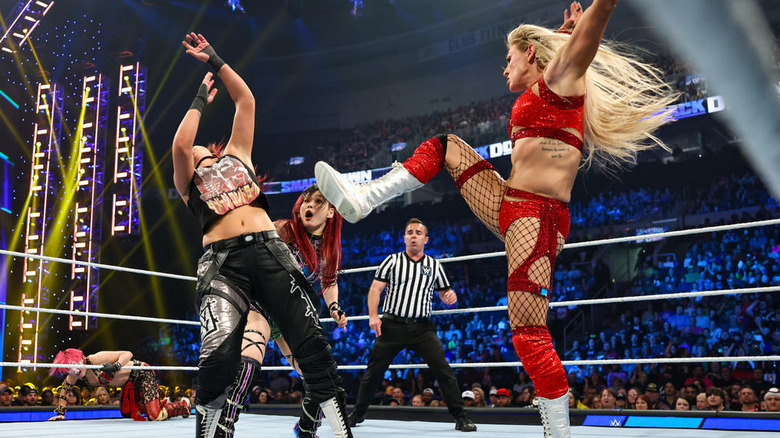 WWE
As someone who spent way too much time going over all the women's matches on "WWE NXT" this week, I feel qualified to say this: The women's division booking on "SmackDown" sucks. And while I'm not saying it only sucks because of Charlotte Flair, it mainly sucks because of Charlotte Flair, and at this point I am just really sick of it. Charlotte hasn't lost a match since WrestleMania 39 — not even a tag match. No contests abound and other people get pinned in triple threats, but lord forbid Charlotte lose for literally any reason. She's been going through the motions in the ring since she returned (go back and watch how she executed her finisher Friday night; the epitome of laziness). Her character is "I have my dad's last name." Her motivations are "must win titles, must be champion when WrestleMania comes." That particular bit has become so difficult to ignore that Bayley has explicitly called it out on WWE programming, saying Charlotte never actually does anything except show up when there's a title match to be had, and it's hard to boo the heel when she's objectively correct.
Actually, screw not booing her — you really have to feel for Bayley these days. There was a brief moment after SummerSlam when it looked like Damage CTRL was going to be treated like a powerful force again, but those days were more numbered than literally anyone's women's title reign after Charlotte Flair shows up. Here are Bayley's "SmackDown" matches since SummerSlam:
8/18: Lost to Charlotte Flair and Bianca Belair in a tag match with IYO SKY

9/1: Lost to Shotzi

9/8: Lost to Charlotte Flair & Shotzi in a tag match with IYO SKY

9/15: Lost to Asuka

9/29: Lost to Charlotte Flair

10/6: Lost to Asuka and Charlotte Flair in a tag match with IYO SKY
Keep in mind, SKY has been the champion that whole time, and she's successfully defended her title twice, but that just means Bayley has been the one eating all the tag match pins. It just sucks, and it's bad booking. There's no real storyline here, there's just Bayley losing a lot and Charlotte winning a lot and the same three or four people milling around ringside every week. It's ridiculously boring and a tragic waste of talent, and both SKY's title reign and Bayley (just in general) deserve better.
Loved: Judgment Day/Bloodline Interactions (Jon Jordan, WINC news writer)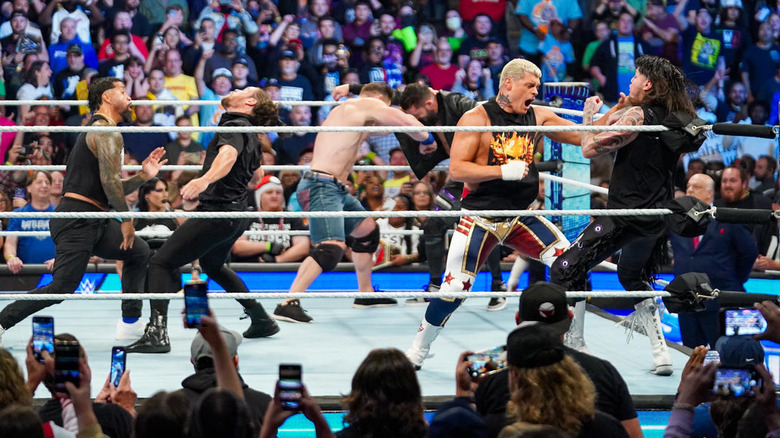 WWE
Say what you will about predictable, formulaic wrestling programming (and I will later) but The Judgment Day and The Bloodline interacting and eventually aligning and eventually eventually clashing has been inevitable from the start. The fact that WWE established a dominant faction on one show, saw what it had with long-term storylines, and took a fledgling group on the other show and (with a few Edge-ustments) did the same there, is both commendable and suspicious. Could they have that much foresight? There's some PTSD here for sure (thanks, Vince!) but also some well-earned faith in that this can pay off, somewhere, somehow.
Tonight, we teased tension between the two groups when Rhea Ripley proposed an alliance between her posse to Paul Heyman and his Bloodline brethren, only to be met with some resistance as Heyman said he'd have to get it authorized by Roman Reigns. Ripley then said it's already been authorized — and he should "acknowledge" her unless he wants to find out which group is the alpha pack, after all. At one point, these two factions against each other would have made for a great WarGames match at Survivor Series, but now, The Bloodline only exists as Jimmy Uso and Solo Sikoa (at least from a full-time perspective) with Heyman as a talking head. Reigns is nowhere to be found (until next week, at least), so that supergroup doesn't make much sense. But you know what does? Putting the two groups together.
Jimmy Uso and Solo Sikoa representing The Bloodline, plus Damian Priest, Finn Balor, and Dominik Mysterio from The Judgment Day makes for one hell of a WarGames team (and if you want to get crazy, add Reigns to the mix for a six-man squad) On the other side, we have Cody Rhodes, Jey Uso, LA Knight, and you loop Sami Zayn and Kevin Owens back in, right? And if we want to assume John Cena's hanging around for a bit longer (he looks like he's having fun, right?) then you have a 12-man melee for the ages. Not to mention Ripley, Heyman, JD McDonagh, et al. hanging around on the outside!
Want to get even crazier? What say Cena doesn't want to continue on through Survivor Series (or can't, with Hollywood seemingly coming to life again soon)? What if he needs to be written out? What if that comes in the form of a Judgment Day/Bloodline beatdown, and the babyface side needs to add to their team for that six-on-six we were so looking forward to? Who might they call for a Survivor Series WarGames match, in Chicago?
Maybe I just made this all up out of nowhere but I'm gonna go ahead and mark out for myself because, damn it, that's good s*** right there, pal.
Hated: Dragon Lee Needs Assistance To Win His In-Ring SmackDown Debut (Olivia Quinlan, WINC news writer)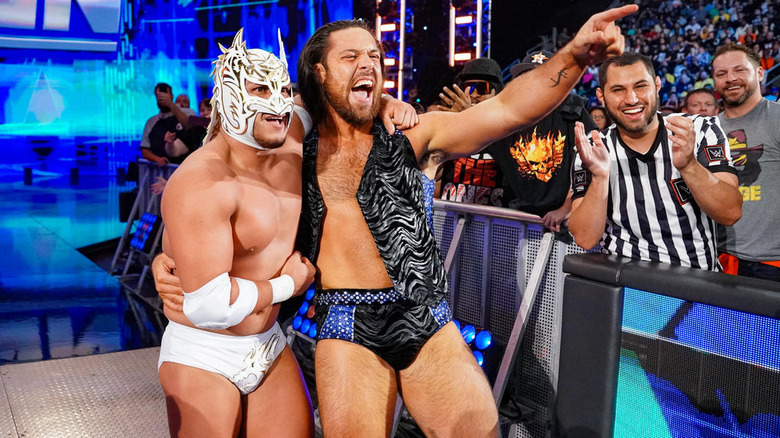 WWE
As an admitted Dragon Lee fan, I am here for having him compete in the ring on "SmackDown" for the first time. In fact, although it wouldn't be my first choice, I didn't even mind that Austin Theory was his opponent, and I thought they put on a pretty good match. That being said, I was not so keen on Cameron Grimes neutralizing Grayson Waller at ringside and ultimately provided Lee with a helping hand to pick up the win, due to his own loss to Theory last week.
I already think that assisted victories are incredibly overdone in WWE, but to have that be the finish for the match of an "WWE NXT" star's in-ring debut on the blue brand makes them look weak and detracts from their credibility. Alliances between two singles stars have become commonplace (much to my chagrin), but to have one including Lee this early into his run seems unnecessary to me.
Loved: Welcome back, Bobby (Schneiderman)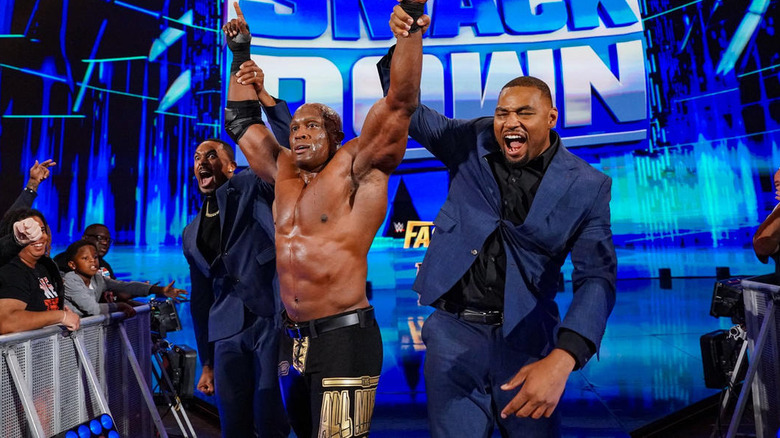 WWE
Three points:
It's really good to see Bobby Lashley wrestling again. It's been way too long. He is just very fun to watch in the ring, pretty much all the time, and if you put him in there with a guy like Rey Mysterio? You got a stew going.
I'm not sure we talk enough about the fact that Rey Mysterio is just casually still doing this at an incredibly high level, two months away from his 49th birthday. I know there's a long tradition in lucha libre of top stars wrestling well into their twilight years, but it's really hard to imagine just anyone putting on a match like this 14 months shy of turning 50. It's just impressive, and Rey Mysterio is a treasure, and we should celebrate him always.
For really the first time since they joined up with Lashely, the Street Profits looked like killers in this match — and they weren't even in it! They were on the outside, wearing tailored suits and taking the souls of the two Latino World Order members whose name no one remembers. It's a little lame that Lashley couldn't beat Mysterio without a distraction, but overall it's fine, and the important thing here is that the Profits get presented well, because I feel like they really need to kick ass for a while for this team to get over the hump. The fact that Rey is now making a phone call to bring in a third party to compete in the Fastlane six-man tag because neither Wilde nor Del Toro is cleared makes me a little worried that the heels might lose because WWE wants to put over the surprise participant (Carlito, maybe?) but we'll complain about that bridge when we come to it. For now, it's enough for me that the Profits dished out a bad enough beating that Mysterio now has to call in reinforcements. It's a good start.
Hated: Formulaic Wrestling Shows (Jordan)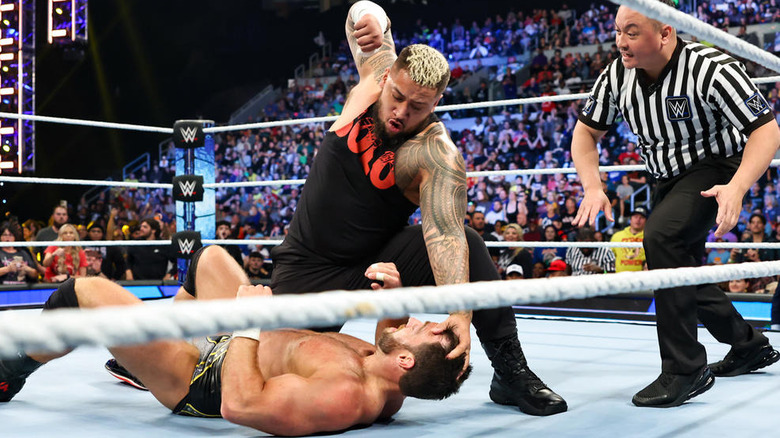 WWE
I said I'd get to this, so here goes: We can't just introduce every night's main event by positioning one person or group against another, railing away on some promo, then getting interrupted by the person or group on the other side of the feud, only to see that main event end in disqualification because obviously, we were headed toward something bigger somewhere down the line and we want to keep everyone relatively protected. Good grief, that was some kind of a run-on sentence! But it kind of jives with this formulaic approach that WWE seems to love so much. Long-term storytelling, right?
Look, things are so much better than they once were, even looking as not-so-far back as Paul Heyman's "third inning" comment, so I'm not accusing anyone of giving us the same matches over and over and over again, because rematch clauses. But we have been very much stuck in the opening-promo-interruption-to-cue-the-main-event routine for some time now, and there's gotta be a better way.
Friday night, it was LA Knight basically saying, "I'm here, you're here, let's have a match, YEAH, YEAH, YEAH." Only when Heyman showed up to object did we even have the chance to wonder, "Hey, maybe we're going somewhere creative here," but not so much. His rant had some merit, but eventually, it led to our main event, which saw Sikoa get Jimmy disqualified by attacking Knight.
The good news is, we're (or at least I'm) going into this next PLE with high hopes for some quality wrestling and stories. These groups against each other anytime is a great thing that's easy for anyone to follow and appreciate. And the even better news is that any combination from either side will make for a fantastic WarGames match (even if it doesn't involve 12 people).
Loved: What's Next For Judgment Day? (Quinlan)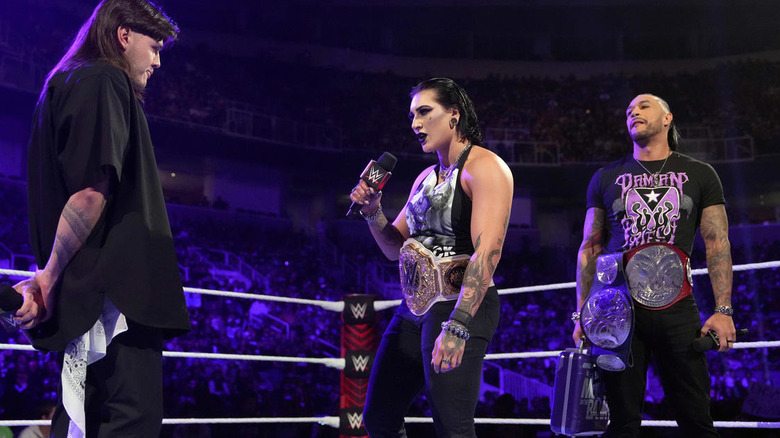 WWE
An impending Judgment Day breakup has seemed likely for quite some time now. It seems as if we're moving closer and closer towards it everyday, and I am loving how it appears to be playing out. Since returning to WWE following an attack at the hands of Nia Jax on "WWE Raw" a couple of weeks ago, Rhea Ripley has intriguingly assumed the official role as the leader of The Judgment Day (despite the group's insistence that there is no true leader) and Friday night pushed that narrative even further through her conversations with Paul Heyman and her ordinance of Damian Priest, JD McDonagh, Dominik Mysterio, and Finn Balor at ringside during the massive brawl that ensued as the show went off the air. The disdain and distrust Priest has towards McDonagh also continued, as he questioned his presence with the rest of the group before Ripley claimed ownership for the decision.
Storylines are often pretty predictable, but this one is keeping me more on my toes since it's hard to know who will ultimately turn on who, whether it be McDonagh (and possibly Balor) betraying the rest of the group, Ripley kicking out Priest for questioning her authority, or any other one of the members doing one or more of those things. I can confidently say that Judgment Day has become one of my favorite part of WWE, and I'm looking forward to seeing where this story is headed at Fastlane and beyond.