Eric Bischoff's Takeaways From AEW Collision Ratings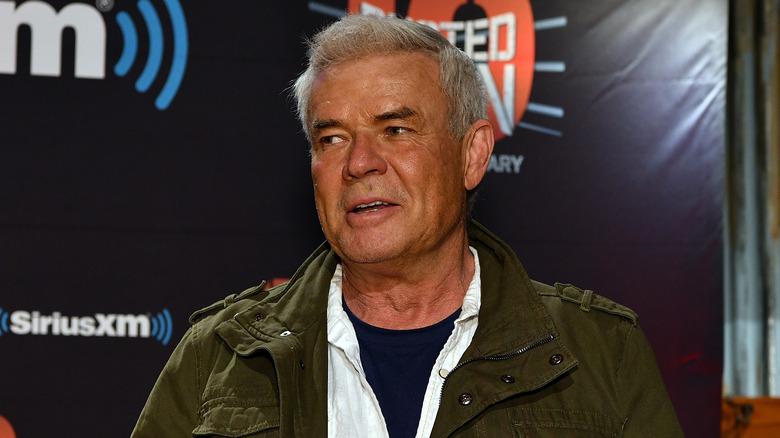 Slaven Vlasic/Getty Images
At the end of last month, "AEW Collision" went head-to-head with WWE NTX No Mercy, and the result was a significant ratings drop for AEW. While the company fared slightly better this past weekend when "Collision" went up against WWE Fastlane, it was still a big dent in the show's audience. On the latest "83 Weeks," recorded before the ratings for the most recent "Collision" were revealed, Eric Bischoff provided his analysis of AEW's current Saturday viewership situation.
"When you have a WWE PLE head-to-head [against] 'Collision,' 'Collision' gets trounced," Bischoff said. "[That] tells me that there's a tremendous amount of duplication in the AEW audience. The AEW audience is, I would imagine, 80% comprised of people [who] also watch WWE. [I'm] convinced of that now."
Bischoff stated that you can now see a pattern of "Collision" ratings dropping when going up against a WWE PLE, which has solidified his position on the matter. The WWE Hall of Famer then gave his assessment of Adam Copeland's position in all of this.
"That segment of the WWE audience that was interested in Edge, ... they want to check it out, because they're interested in their Edge, but not necessarily interested in the AEW product," Bischoff continued. "I think there's a small segment of the AEW audience that is [an] exclusive AEW audience, but it's a very, very small percentage."
Copeland may have brought in some viewers short-term, in Bischoff's estimation, but they were likely WWE fans who had no intention of sticking around to watch AEW in the future. With "Collision" set to stay on Saturday nights for the foreseeable future, there should be plenty more matchups between the AEW show and WWE PLEs going forward, meaning more data for Bischoff and others to interpret.