Bully Ray Explains His Annoyance With Monday's WWE Raw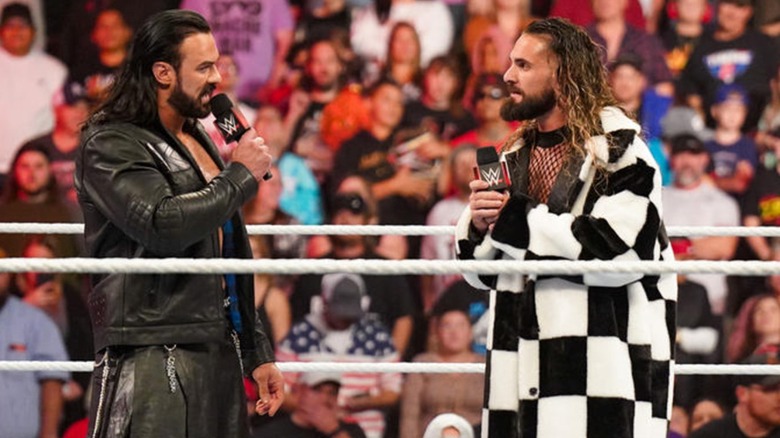 WWE
On this week's "WWE Raw," Seth Rollins walked out dancing and celebrating less than 48 hours after his brutal Last Man Standing Match against Shinsuke Nakamura, something that did not sit well with Bully Ray. Reviewing the segment on "Busted Open," Ray blasted WWE for downplaying the physical torment that Rollins endured against Nakamura, suggesting that the World Heavyweight Champion should have walked out with a limp to sell his back injury. 
"These are the things that annoy me," Ray said. "You killed the credibility of the match, and the believability of the [back] injury. You killed everything Shinsuke Nakamura did to you — bumps off of ladders, going through tables, falcon arrows through tables ... everything ... and not even a limp? Not even a grabbing of the shoulder? Common! We all know the WWE and Seth Rollins are smarter than that." 
Ray further criticized Rollins for dancing like his usual self and not carrying "a stoic look" on his face after enduring a war against Nakamura, reiterating that WWE sent out a "We don't care about the Fastlane match" message to its fanbase. "I'm sick and tired of the lack of selling in this industry," Ray exclaimed. "Whether it's selling in the ring in the moment, or selling afterward. It is just uncalled for. This is not 'old man screaming at the clouds' — this is what's right." 
Upon winning his feud with Nakamura, Rollins has already moved on to his next challenger, Drew McIntyre, who confronted "The Visionary" this week and challenged him to a title match at Crown Jewel. Ray was equally critical of WWE for moving on so rapidly from the heated rivalry between Rollins and Nakamura. "All you did last night was tell me, 'Forget about Fastlane.' And that's the truth."