Tony Schiavone Says WCW Thought This WWF Defection Would Be A Big Win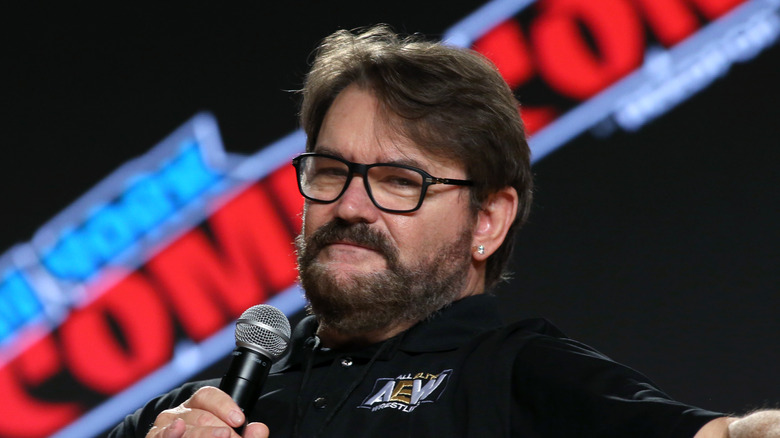 Bennett Raglin/Getty Images
As the lead voice of WCW during the "WCW Nitro" era, Tony Schiavone was on hand when many notable stars jumped to WCW from WWE. This included big names like Hulk Hogan, The Outsiders, Bret Hart, and "Mr. Perfect" Curt Hennig, who joined WCW in mid-1997, eventually becoming a key member of the nWo. On "What Happened When," Schiavone discussed Hennig's jump, and how everyone in WCW felt about getting the former Intercontinental Champion. And Schiavone feels the consensus was that Hennig was expected to have a huge impact for the promotion.
"There was a lot of chatter of how big a star he was and how he would be so good for this company," Schiavone said. "It was pretty much ... I don't know with the boys as much, but I think with ... people of us in the front office who followed wrestling, we were pretty excited about him coming over. He was a major star, we thought, and would really help us out a great deal. So we all thought that it be a big win for us."
Ultimately, Hennig's WCW career, lasting until the promotion closed in 2001, would be a mixed bag, as the WWE Hall of Famer would generally remain in the same upper midcard scene he found himself in during his WWE run. Despite that, Hennig would go on to win the United States Championship once in 1997, and the WCW World Tag Team Championship with Barry Windham in 1999, when both were members of the country music stable, The West Texas Rednecks.
If you use any of the quotes in this article, please credit "What Happened When" and provide a h/t to Wrestling Inc. for the transcription