Eric Bischoff Reacts To AEW & WWE Facing Off On Tuesday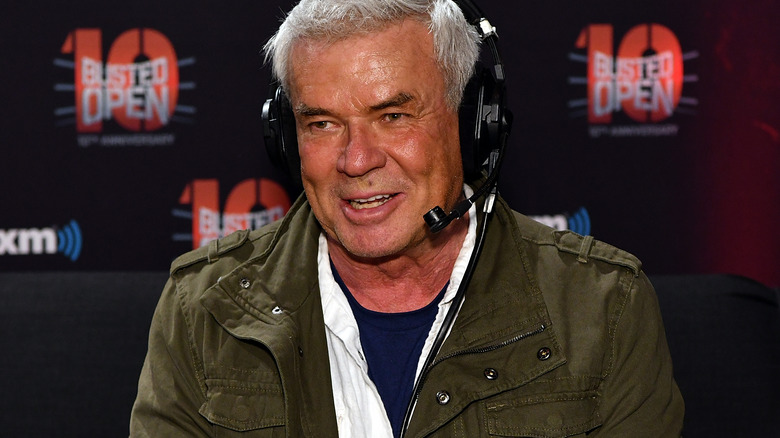 Slaven Vlasic/Getty Images
Wrestling fans were treated to a double dose of action Tuesday evening as "WWE NXT" went head-to-head with "AEW Dynamite." While the ratings indicated that more viewers tuned into "NXT," former WCW President Eric Bischoff enjoyed watching both products, and seeing the online chatter unfold. Speaking on "Strictly Business with Eric Bischoff," Bischoff shared his reaction to the Tuesday night face-off between WWE and AEW.
"That head-to-head vibe was just fun," Bischoff said. "I talked about all the crazy yesterday, and I am not kidding, I really enjoyed it. It was entertaining as hell watching people chime in and listening to their opinions and again, the Tony Khan stuff is just off the wall, crazy. Then of course, watching, knowing that this head-to-head thing was going on and so many people were emotionally invested in it, it was good energy, man."
From a production standpoint, Bischoff believes "Dynamite" provided fans with a more authentic feel, as it was held from the Cable Dahmer Arena, which Bischoff identifies as a legitimate venue in comparison to the WWE Performance Center, where "NXT" is hosted. In further evaluating the performance of "NXT," Bischoff rated the show's energy between an eight and nine on a scale of one to 10. Within the department of visuals, though, Bischoff thinks "Dynamite" seized the upper hand.
"I used to say it in TNA, I don't care who you put in a soundstage. I don't care what you do in a soundstage. It will never have the energy or authenticity of a live event when compared to a live event in a real venue. That was the big advantage, production-wise, that I feel 'Dynamite' had," Bischoff said. "And despite that, 'NXT' was able to build and hold a greater audience, so hats off to them."
If you use quotes in this article, please credit "Strictly Business with Eric Bischoff" and provide an h/t to Wrestling Inc. for the transcription.