One Half Of WWE NIL Prospects The Cavinder Twins Heading Back To College Basketball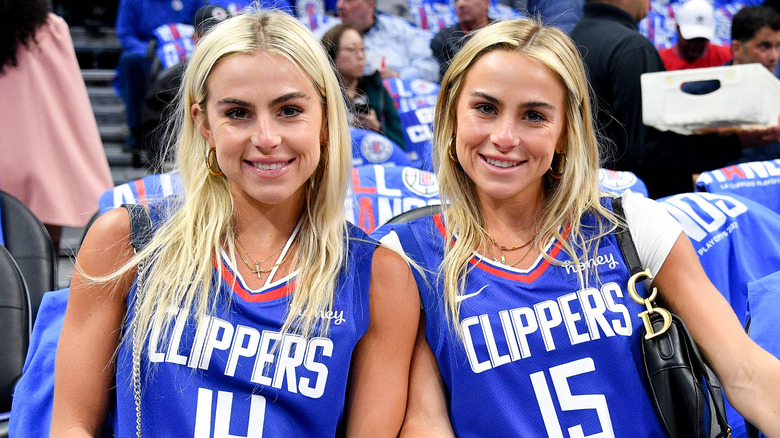 Allen Berezovsky/Getty Images
The Cavinder Twins — Haley and Hanna — were projected to ascend to the heights of WWE Hall of Famers The Bella Twins when they signed NIL deals with WWE in 2021. The deals gave them the opportunity to continue their college basketball careers while also training for a WWE career, which seemed to officially get underway when they appeared on "WWE NXT" in June to celebrate with Thea Hail. 
Nearly four months after their WWE cameo, it appears The Cavinder Twins' future in pro wrestling is being put on hold. According to ESPN, Miami Hurricanes guard Haley Cavinder intends to play the 2024-25 NCAA season, less than six months after announcing her retirement from college basketball. The report added that Haley will return to collegiate competition in about a year, and will consider playing for other schools if she's unable to land a spot with the Hurricanes. It's unknown if Hanna will stay retired or follow her sister back to the court.
As part of their retirement statement in April, the twins renounced their final season of NCAA eligibility to pursue a career in WWE, paving the way for them to ramp up their training at the WWE Performance Center in Orlando, Florida. The move also freed them up to further focus on their blossoming careers as content creators, best exemplified by their 4.5 million followers on TikTok. Haley's announcement could disrupt some of those plans. When the groundbreaking NIL era kicked off in January 2021, and NCAA rules began allowing collegiate athletes to profit off their name, image, and likeness, the Cavinder Twins were among the first collegiate athletes to immediately monetize from sponsorship deals, and the sisters have continued to land millions of dollars through their various business ventures.