Eric Bischoff On How AEW's Use Of Tony Schiavone Could Cause 'Audience Fatigue'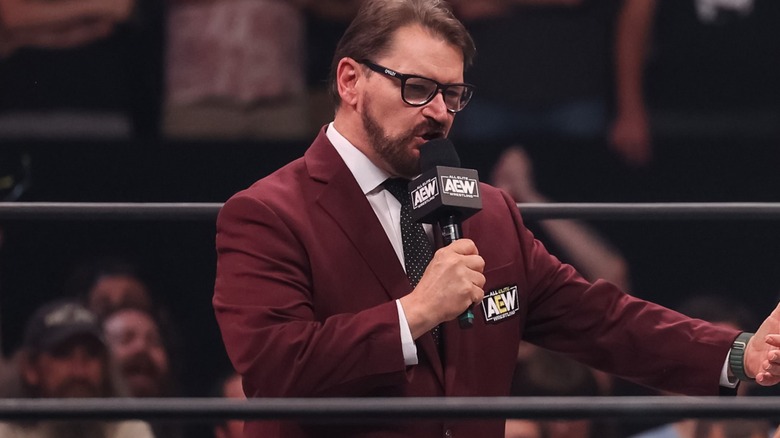 AEW
Since the show's premiere on TNT back in June, Tony Schiavone has been a regular on episodes of "AEW Collision." For the most part, he's been used as an on-screen personality and interviewer, but the October 14 edition of AEW's flagship weekend show saw him join the announce table. As such, the commentator now has a spot on the majority of the company's weekly programming, but Eric Bischoff believes that he should be used more sparingly.
"Tony's one of the best, it's not a question of whether or not he has the ability or the credibility or whether or not he's that TV dad... Other than Jim Ross, there's nobody out there that has as recognizable a personality as Tony Schiavone when it comes to doing color or play-by-play," Bischoff said on "83 Weeks." "But the man's only got so much energy, and spreading him that thin, just from a personal point of view, I don't think is a good idea."
Bischoff said that Schiavone is a pro who'll always do a great job. However, he believes that AEW shouldn't get into the habit of including the veteran announcer on every show. He compared the situation to that of Logan Paul in WWE, someone else the former WCW president feels should be used as a star attraction.
"You need to be aware that you can overexpose great talent who then, after a period of time, don't feel quite as great to the audience... Audience fatigue is a real thing."
During the podcast, Bischoff elaborated on his views about Paul as well. While he believes that he should be booked sparingly, he also thinks that Paul deserves more credit from wrestling fans.
If you use any quotes from this article, please credit "83 Weeks" with a h/t to Wrestling Inc. for the transcription.