Kevin Nash Addresses Whether He's Signed To WWE, Possibility Of Royal Rumble Cameo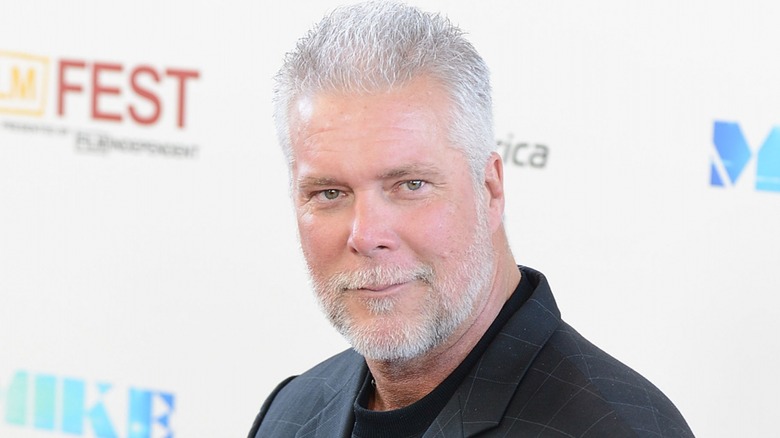 Jason Merritt/Getty Images
Kevin Nash wants to clear up any confusion about his contract status.
"Last week, we were talking about the WWE's acquisition of Jade Cargill," Nash began on a recent "Kliq This" episode. "I gushingly said how attractive she was." 
Nash explained that he'd been asked then if he'd go to AEW and he responded that WWE had signed the main reason he would've gone to AEW. That reply was interpreted by some as an indication that he'd signed a new deal with WWE — something Nash outright denies.
"I didn't say that I was signed. I didn't say I got a new deal. I didn't say any of that sh**," Nash said, bemoaning the current state of wrestling news. "[Outlets] obviously didn't listen to it." Nash was adamant that he has no value to WWE or any wrestling promotion in 2023.
"You couldn't get me into a ring ... You'd shoot me in the back of the head before you'd get me in a ring," Nash exclaimed. The WWE Hall of Famer says he doesn't want to be in a position like Paul "Triple H" Levesque, who suffered numerous injuries in return matches, including a torn pectoral in Saudi Arabia. "I blew a quad taking a step. You think I'm getting in the f***ing ring at 64?"
Nash has not wrestled since a Big Time Wrestling event in 2018 and has had limited appearances on WWE television — outside of his second induction into the WWE Hall of Fame as part of the NWO in 2021. He hasn't set foot in a WWE ring in an active capacity since the 2014 Royal Rumble and also rejects the idea of appearing in a future Rumble.
"I don't look like I'm ready for the Rumble, do I?" Nash asked. "I'm not going to 'Mania, which means I'm going over the top rope at some point. Nuh-uh."