Reported Reason For Michael Cole's Absence From WWE Raw Season Premiere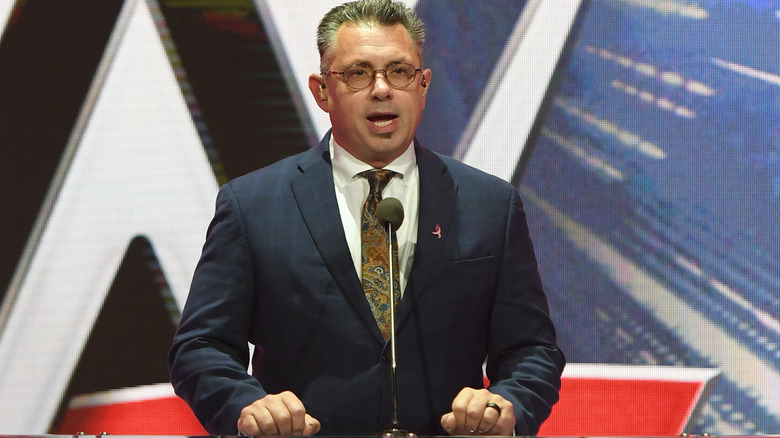 Ethan Miller/Getty Images
Iconic announcer Michael Cole rarely misses his duties on commentary for WWE shows, but he wasn't behind the desk on Monday's edition of "WWE Raw," whose booth was led by Kevin Patrick. According to PWInsider, Cole's absence this week was planned and was not due to illness. According to the outlet, Patrick was set to be in the lead commentary position for many weeks leading up to the show, as Cole requested time off this week due to a personal commitment.
Patrick was joined by the traditional third Monday night voice of former Intercontinental Champion Wade Barrett, who came over to "Raw" alongside Cole back in August. Cole is now in the booth for both major WWE shows — Patrick, who was named lead "Raw" announcer in October 2022 following the departure of Jimmy Smith, was moved to "SmackDown," where he has been working alongside Cole and Corey Graves.
In May, Cole said he will not retire from his commentary duties until he was reunited with on-again-off-again "SmackDown" commentator Pat McAfee. Cole also said he has "a lot left to do in the company" with a "lot of shows left to call." Speaking on McAfee's show, the 56-year-old said that the age of 60 might be a "pretty good age to slow down." On a recent episode of "Raw," Cole interviewed current World Heavyweight Champion Seth Rollins, who mentioned the fact that Cole rarely misses shows. Cole responded to the praise, saying he had only missed two shows in the past 26 years. That makes this week's episode the third in that time frame.