Why WWE Hall Of Famer Ted DiBiase Didn't Want His Sons To Become Wrestlers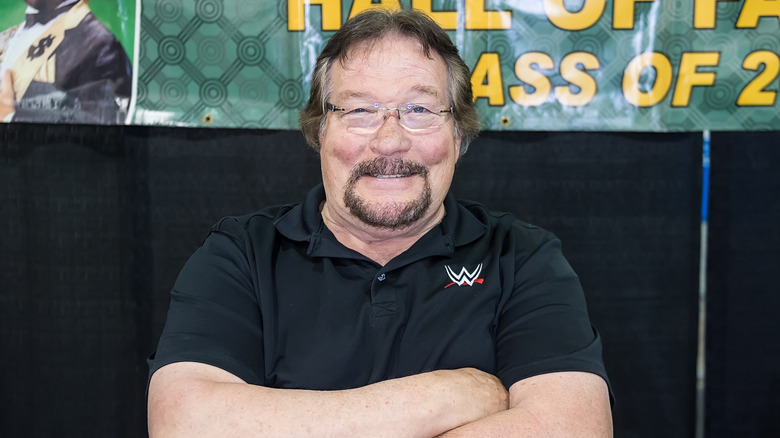 Gilbert Carrasquillo/Getty Images
Professional wrestling is a tough business, and just about anyone inside the industry can attest to that. That explains why some wrestlers would prefer their children stay out of the business altogether. That once included "The Million Dollar Man" Ted DiBiase. Speaking on "Everybody's Got A Pod," DiBiase explained why he was reluctant for his children to become pro wrestlers.
"I didn't want my boys to be wrestlers," DiBiase said. "Not because I didn't love wrestling. I didn't want them to be wrestlers because I didn't like what came along with the package — the lifestyle. Now, the lifestyle has changed [a lot]."
One of the biggest differences, DiBiase pointed out, is that most wrestlers will only work up to four days out of a week, giving them at least three days at home with their families. While the people at the top of the card might have to work more, there is a strong upgrade in compensation that comes with that.
DiBiase has three sons who entered the pro wrestling industry: Mike, Ted Jr., and Brett. Both of Ted Sr.'s parents were also professional wrestlers, making his three sons third-generation performers. However, none of the three are currently active wrestlers.
Ted Dibiase Sr., Jr., and Brett were all embroiled in a scandal regarding the misappropriation of welfare funds from the state of Mississippi over the last several years. After being ordered to repay hundreds of thousands of dollars, DiBiase Sr. would later call the charges "garbage," stating that he and his family were nothing more than scapegoats in the situation.