Bianca Belair Reveals The Most Memorable Match Of Her WWE Career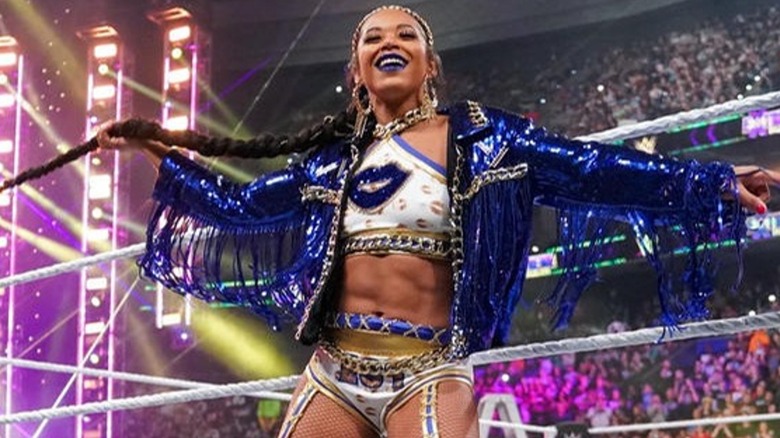 WWE
Few wrestlers are able to legitimately make history at this stage in the wrestling industry, but Bianca Belair was able to achieve that with Mercedes Sasha Banks (now known as Mercedes Mone) when they headlined WrestleMania 37. It was the first time ever that two Black women had faced each other in that spot, etching their names in the history books in the process.
"That is the most memorable match to me because woo that day! If anybody goes back and watches that match, I was in tears in the ring after the bell rang," she told Keke Palmer on her podcast. "That's the last place you want to be in tears. I was like, shoulders shaking, ugly face crying, because that moment was so big and important."
While it wasn't the first time that a women's match had closed WrestleMania and Belair has since competed in several other prime major WrestleMania bouts, none have been as significant. The encounter even went on to win an ESPY for "Best WWE Moment."
The "EST Of WWE" believes she joined WWE at an amazing time for women's wrestling as not only is the WWE roster filled with talented individuals but representation for people of various backgrounds has never been so key.
"What I love about our roster too is that it's so diverse. Every single woman in the world can look at our roster and see somebody that they relate to," she said. "Different types of Black girls can look at WWE and see someone that they relate to, someone that has the same interest as them." 

If you use any quotes from this article, please credit "Baby, This Is Keke Palmer" with a H/T to Wrestling Inc. for the transcription.