AEW Moves More Than 2,000 Tickets For Houston Show After Rampage Match Announcement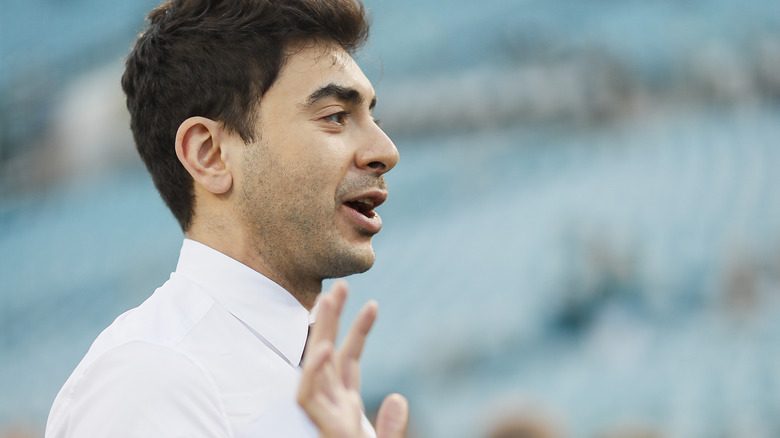 James Gilbert/Getty Images
AEW has a packed house in suburban Houston, Texas, thanks to the addition of NWA World Historic Welterweight Champion Místico.
Wrestling Observer's Dave Meltzer took to X (formerly Twitter) to say that since the announcement of Místico's match against NWA World Historic Middleweight Champion Rocky Romero, set to be taped for this Friday's episode of "AEW Rampage," over 2,100 tickets had been sold, with AEW opening up additional seating at the time of the post. Meltzer gives some credit to the lowering of ticket prices, but also notes that the Texan crowd appeared to be turning out for the lucha libre star. The match will mark Místico's AEW debut.
As of this morning, AEW's show tonight has moved well over 2,100 tickets since the announcement of Mistico. Some of this is lowering prices but every company lowers prices if not sold out at the end. This is a noteworthy number but also notable Mistico's first AEW appearance...

— Dave Meltzer (@davemeltzerWON) October 18, 2023
The match is especially notable as AEW often works with CMLL's lucha libre rival, AAA. AEW is reportedly entering a relationship with CMLL while maintaining its relationship with AAA. According to Meltzer, AAA has no intention to jeopardize its relationship with AEW. There will likely be no crossover, which means CMLL wrestlers will not compete in the same matches as AAA wrestlers, but the nature of the relationship is still a major political victory for AEW, as Tony Khan has seemingly created a neutral ground where CMLL and AAA stars can share a locker room in unprecedented capacity.
Místico has been a popular luchador since his debut 25 years ago. He wrestled for a brief tenure in WWE as Sin Cara, debuting in 2011 and leaving the company just 3 short years later, while another wrestler carried on the Sin Cara mask and character.