Nick Wayne Injury Update Following AEW Dynamite Brawl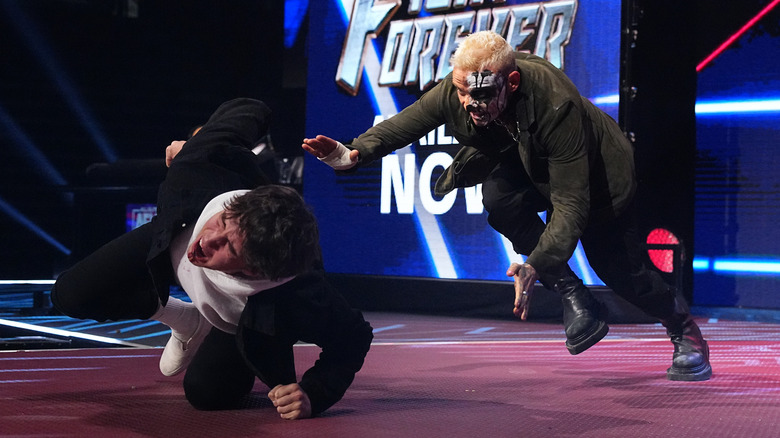 AEW
The animosity between Nick Wayne and Darby Allin spilled over onto "AEW Dynamite" last night. Allin battered the new mentee of Christian Cage following an acidic interview between Jim Ross, Wayne, and Wayne's mother. Not everyone walked away from the skirmish as whole as they came in. 
Per the latest "Wrestling Observer Radio," Nick Wayne chipped a tooth after he went face-first into the concrete during the fight. He chipped it so badly that it went down to the nerve. That's what caused the youngster to be spitting blood during the segment and likely sent him to the dentist for some crown work, or perhaps an implant. There has been no word on which tooth exactly suffered the crack.
Allin had previously served as a mentor to Wayne, but Wayne turned on him in favor of Cage and his "right hand of destruction" Luchasaurus — much to the chagrin of his mother. Wayne joined up with Cage at AEW WrestleDream, betraying Allin during his Two-Out-Of-Three-Falls Match and costing him the TNT Championship in front of his hometown crowd. Wayne crossing Allin also put him on the wrong side of "The Icon" Sting and Cage's former friend and tag team partner Adam Copeland, who debuted following Wayne's betrayal that same night.