Grayson Waller Explains Why He Didn't Help Austin Theory Take Down The Rock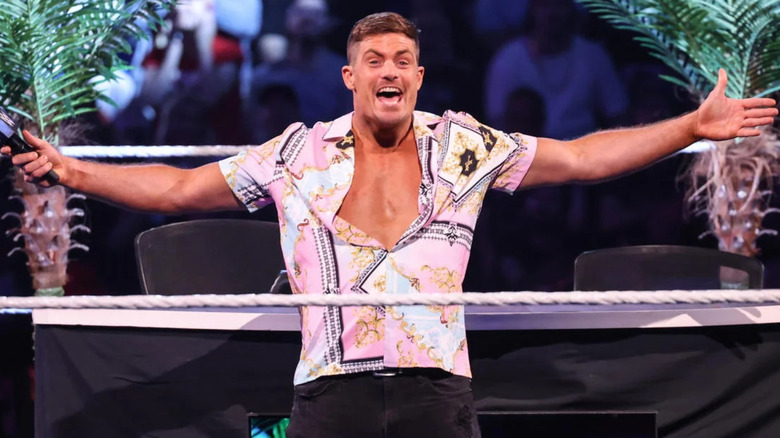 WWE
Grayson Waller and Austin Theory have forged a solid friendship since being paired together as a tag team in WWE. Despite their blossoming bromance, Theory was noticeably left to fend for himself on the September 15 "WWE SmackDown," where he was double-teamed by Pat McAfee and Dwayne "The Rock" Johnson. On WWE's "The Bump," Waller was asked why he didn't provide any assistance to Theory that evening.
Waller claimed that he was retrieving an item from his car when the chaos unfolded. "First of all, Austin destroyed The Rock on the mic," Waller said. "It's been a while since The Rock's been in the ring, and I think he's not the same as he used to be. Austin, he put him on the ground, lad. For me, I left something in my car. Start of the show, I'm like, 'I'm going to go [get it], I'm in the main event with John Cena.' Then I come back, all of a sudden people are talking about The Rock. I didn't even know he was there. That's not on me, and then when he came backstage, he went running. He walked past all the fans in the locker room who wanted his autograph and to get a photo, and he got straight in his bus with Pat McAfee. They disappeared to Colorado because The Rock didn't want to see Grayson Waller."
This isn't the first time Waller has made a bold statement about "The People's Champ." In July, Waller asserted that his Madison Square Garden debut was better than The Rock's, which prompted the two to trade shots on social media. Upon the conclusion of their interaction, Waller invited The Rock to guest on "The Grayson Waller Effect" as a way for him to elevate his stock, or rather, receive the "Grayson Waller rub."
If you use quotes in this article, please credit "WWE's The Bump" and provide an h/t to Wrestling Inc. for the transcription.