Former AEW Star Isn't A Fan Of MJF But Will Always Be Thankful To CM Punk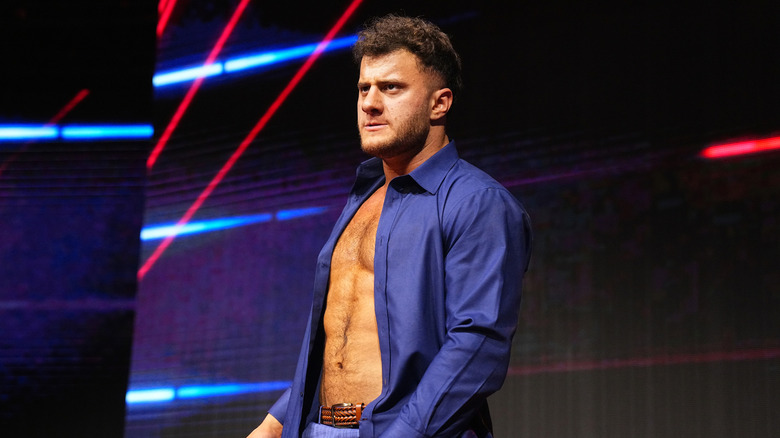 AEW
MJF and CM Punk remain two of professional wrestling's most polarizing figures, so it comes as no surprise to learn that their dispositions have elicited two differing reactions from one of their former colleagues. Speaking in a video posted to his YouTube channel, former AEW star Fuego Del Sol revealed his candid thoughts on current AEW Champion MJF, as well as CM Punk, who had his AEW contract terminated last month.
"People aren't going to like me for this, but if I'm honest, I'm not a fan of this guy, to be for real. When I say I'm not a fan, I should reiterate that I try to never let my personal opinion get in the way of someone's actual talent. He's talented as all hell, incredible promo guy," Del Sol said of MJF. "However, early on in AEW, even before I got signed, he gave me one weird disparaging remark in front of a lot of people backstage, but it was off-handed. I'm sure he [doesn't] even remember it — I do though. Some people are going to go out of their way to critique you or congratulate you or help you out, he kind of stuck to himself in that regard, and never really talked to me. So, I don't think we're each other's cup of tea."
Despite his awkward interaction, Del Sol asserts that MJF is a gifted performer. On the contrary, Del Sol said CM Punk provided him with valuable advice and a space to vent after he sustained a foot injury. While he admitted he was in a "dark place" during the recovery process, Punk helped uplift him, which he is grateful for.
"He did not have to reach out to me and talk to me as much as he did, so he will always be a friend in my book. I like CM Punk. I hope the best for him in whatever he decides to do next," Del Sol said.