AEW's Jeff Jarrett On When He Knew The 'Digital Age Of Wrestling' Had Arrived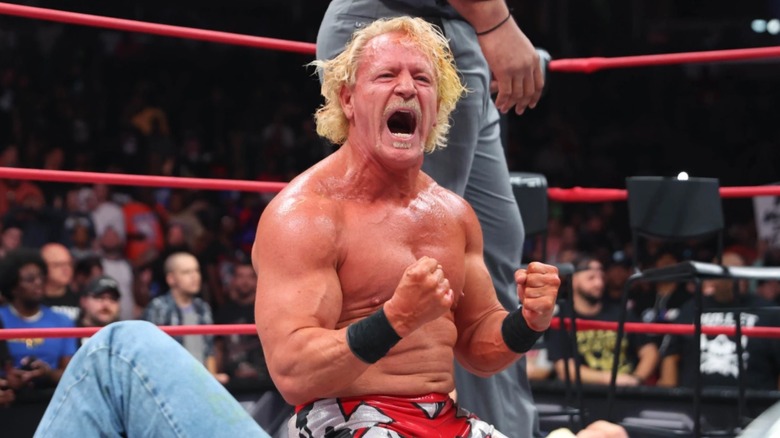 AEW
Jeff Jarrett has seen professional wrestling undergo a variety of changes throughout his nearly 40 years in the industry. That includes its entry into the digital age which he credited to the 2018 independent wrestling event All In on the latest episode of his "My World" podcast. More specifically, he shared his belief that the NWA World Heavyweight Championship match between Nick Aldis and Cody Rhodes kickstarted it all, thanks to its promotion via digital platforms instead of traditional promotional means.
"That to me was the flag in the ground," Jarrett said. "Yes they had New Japan and Ring of Honor ... but still, I think even the guys would say it, their buzz was more off of the New Japan-Bullet Club than it was Ring of Honor. So the stars were really aligning. But you take that [Cody-Aldis] storyline, built around a title that had a lot of ups, but also a lot of downs ... when you had the right talent at the right time with the right show, the right time of year, traditionally speaking ... it was a big deal." 
"And for me to get to be a part of it, as a talent ... I just thought it was really cool," he added. "And when you kind of saw the vibe and the electricity, that's where my brain went. 'Okay, the digital era has arrived. Because people came to the arena to see this match.' It wasn't 'Hey, let's go watch wrestling' ... [it was] 'No, let's go see this match.' And I'm not discounting any other thing on the show. But they paid to see that story, no doubt, and it was cool."
To quote this article, please credit "My World" and provide a h/t to Wrestling Inc. for the transcription