WWE Smackdown Ratings Report 10/20/23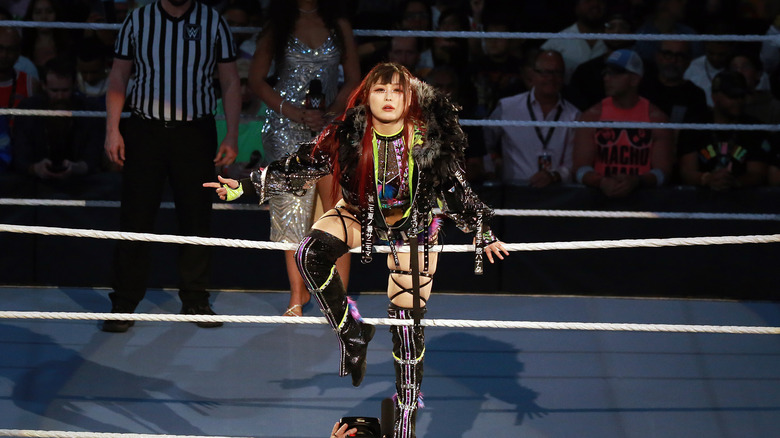 Gladys Vega/Getty Images
Despite being a lame-duck show on Fox due to its deal to move back to the USA Network, "WWE SmackDown" has continued to perform strongly on Friday nights, including drawing 2.417 million total viewers just a week ago for its season premiere. Alas, with said premiere now a distant memory, it appears "SmackDown" wasn't quite able to maintain that momentum without the presence of Roman Reigns.
Wrestlenomics reports that the October 20th episode of "SmackDown" drew 2.253 million total viewers, as well as 0.59 rating (781,000 viewers) in the key 18-49 demographic. Both numbers are down from the series premiere, with the total viewers dropping 7%, while 18-49 showed a drop of 5% from last week's 0.62 rating. "SmackDown" would also see small declines in other demos, though the show did see a 5% increase in females 18-34.
Quarterhours throughout the show was a bit of a rollercoaster, with the opening segment, an LA Knight/Paul Heyman promo, drawing a solid 2.383 million viewers and a 0.61 in 18-49. Quarters 2 and 3 would show significant drops, with total viewers dropping as low as 2.090 million in Q3 and 18-49 going down to a 0.54, the low point of the show in both categories. Things would rise after that, however, with the high point coming in Q5, which drew 2.465 million and 0.65 in 18-49 for a backstage segment featuring Nick Aldis and Adam Pearce, as well as an in-ring promo from Logan Paul. The final three quarters would see viewership dip again, with the main event between IYO SKY and Charlotte Flair drawing 2.261 million viewers and a 0.59 in 18-49, up 2% in total viewers and down 1% in 18-49 from Q7.