Grayson Waller Issues 'Apology' To Taylor Swift Fandom After Recent Abrasive Comments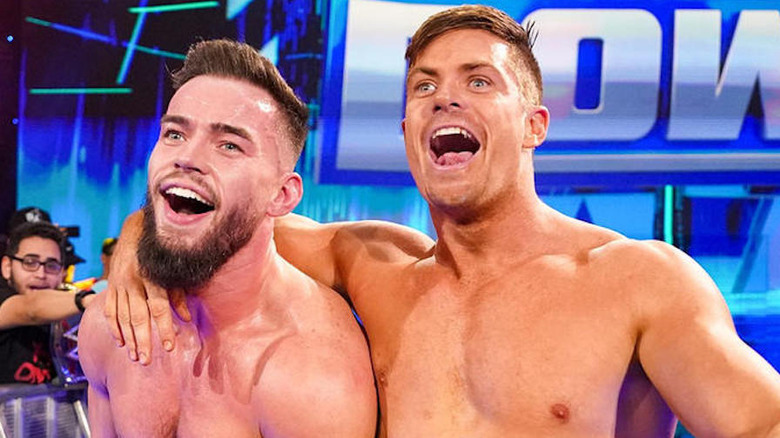 WWE.com
Grayson Waller poked a proverbial hornet's nest recently by making uncouth comments about Taylor Swift, calling the award-winning pop star a "6" and giving her presumed boyfriend, Kansas City Chiefs star tight end Travis Kelce, "credit" for "settling" for the songwriter. Waller then made more comments about Swift on a recent episode of "The Bump" and apparently felt the need to apologize to Taylor Swift fans, or "Swifties," as they're more colloquially known.
"I'm sorry," the WWE star said on X (formerly Twitter) after introducing himself to Swift fans and running down some of his accolades. "I'm sorry that you define yourself by another woman and her accomplishments. It's kinda sad, to be honest. Now I've got all these swamp donkeys in my DMs saying mean things, saying I'm a 'zero out of ten.' Leave the roasts to the professionals, go back to trading friendship bracelets like a bunch of four-year-olds."
I'm Sorry pic.twitter.com/xg3GzEKZ9b

— Grayson Waller (@GraysonWWE) October 22, 2023
Waller addressed Swift fans harassing him about his income and says that they have been overcome with negativity. Waller then goes on to play a clip of Taylor Swift's hit song "Shake It Off," dancing to the tune as he insists that the Swift fans do as their idol says in the song and "shake it off."
For any Swift fans giving Waller the benefit of the doubt as a performer, the current "SmackDown" roster member says that his personality outside of his wrestling character has very little difference from his wrestling persona. WWE management seems pleased with the braggadocious superstar, as he recently shared a segment with WWE legend John Cena.