CJ Perry Contrasts Working In AEW With Tenure In WWE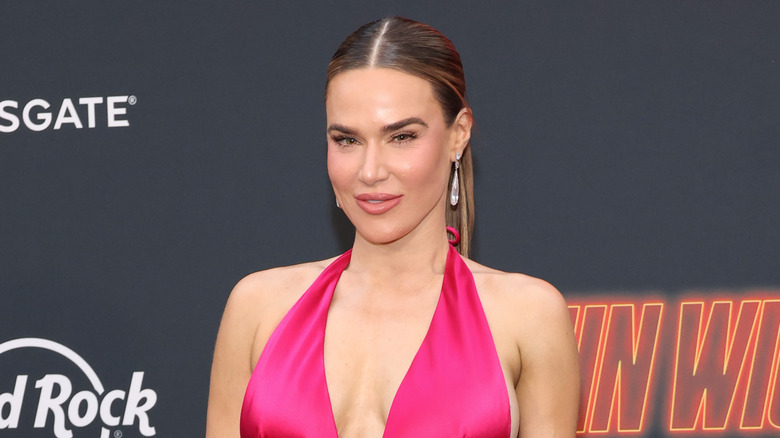 Monica Schipper/Getty Images
Just a few years ago, real-life couple CJ Perry and Miro Barnyashev were performing in WWE as Lana and Rusev. Fast forward to today and the couple are together again in AEW after Perry made her debut with the promotion in September. During an appearance on "Insight with Chris Van Vliet," Perry detailed some of the differences between her time with WWE and her current AEW run.
"I think in WWE, I often would — for better or for worse — do what I'm told," Perry said. "Sometimes people would want me a little bit more over-the-top, or a little bit more annoying, and ... I feel like I did it very well."
Perry stated that many fans assumed that's how she was in real life, not realizing that she was simply playing a character on TV. Now that she's in AEW, Perry has more creative control over her presentation. The biggest differences for her, however, are the contrasts in style and tone.
"You go and you watch John Cena or The Rock or a lot of WWE-style promos, they are slower, especially live," Perry continued. "And it's because they're trying to get the whole arena to get as loud as possible. ... I personally feel that that style in WWE ... is what is losing the younger demographic, and I think AEW has a faster-paced match style, [and] a faster-paced promo style. It's very natural, it's very organic."
Continuing with her point, Perry explained the aims of WWE and AEW are very different, just as any other two TV shows on different networks would have major elements that stand apart. Although AEW places a focus on matches while WWE emphasizes entertainment, Perry feels that both promotions need storytelling and that is what she brings to the table.
If you use any of the quotes in this article, please credit "Insight with Chris Van Vliet" with a h/t to Wrestling Inc. for the transcription.