WWE Raw Ratings Report 10/23/2023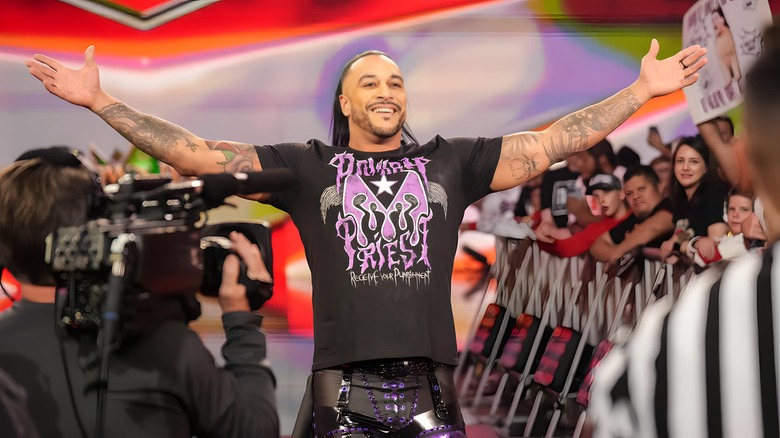 WWE
As the fall rolls around, the competition has only gotten tougher on Monday nights for "WWE Raw." Monday night's episode may have seen the red brand face its stiffest test yet, as "Raw" not only went up against "Monday Night Football," but two Major League Baseball playoff games, as the Rangers defeated the Astros to win the ALCS and move onto the World Series, while the Diamondbacks forced Game 7 of the NLDS against the Phillies.
And yet, despite the heavy competition, "Raw" appears to have held up fine. Wrestlenomics reports that "Raw" drew 1.476 million total viewers last evening, along with a 0.46 in the coveted 18-49 demo. In a rare occurrence, the total viewer number represented no significant increase or decrease in the ratings from last Monday, which drew 1.483 million viewers. "Raw" did have a slight increase in 18-49, rising 2% from last week's 0.45.
"Raw" opened and closed around issues between Damian Priest and Cody Rhodes. The show would begin with the two agreeing to face off at WWE Crown Jewel next week, followed by Priest Pillmanizing Rhodes' leg to seemingly injure him. Despite that, a hobbled Rhodes was able to limp out after Priest's main event match with Jey Uso and brawl with Señor Money in the Bank, ultimately getting the better of him.
The initial angle between Rhodes and Priest would end up being the high point of the show, with Q1 drawing 1.673 million total viewers and a 0.50 in 18-49. As the show went along, however, the numbers would steadily drop, reaching the low point in Q11, which drew 1.306 million viewers and 0.41 in 18-49, with the final quarter only rising slightly to 1.308 million and a 0.42.