Why Lacey Evans Says She 'Can't Believe' She Lasted 7 Years In WWE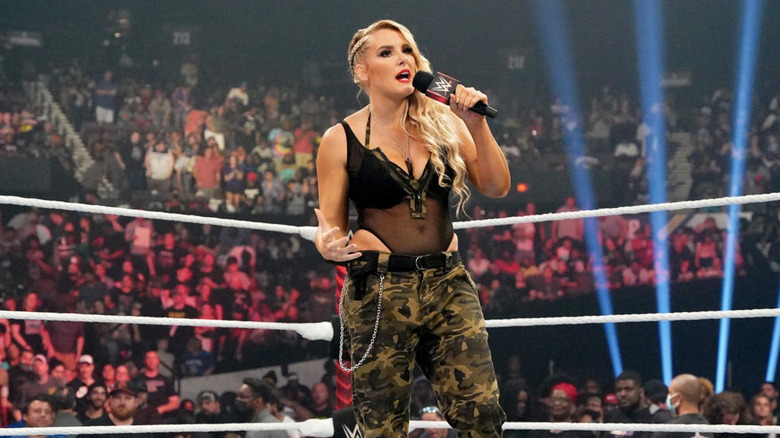 WWE.com
Former WWE Superstar Lacey Evans, now known by her real name Macey Estrella-Kaldec, left WWE earlier this year, and the former military veteran said that her addiction to success is what made her such a divisive figure backstage. On the latest "Power Alphas Podcast," Evans said she was tired of playing nice.
"You can't cancel me at this point," Evans said of her outspoken nature. "I don't give a sh**...back then, how I lasted 7 years in WWE, no idea!" According to Evans, she was constantly getting into fights due to her mouth. "Luckily the powers that be liked me enough ... each year I got a little bit more."
She stated that the earnings from WWE have afforded her the ability to invest in real estate and other ventures, crediting her "addiction" to monetary success. Evans reiterated that she considers herself an alpha, scolding unnamed people for waiting their turn or for not speaking up for themselves. 
Evans is adamant that she never needed WWE's money, considering her 18-acre property and military career. However, she acknowledges that WWE provided her a platform that she felt was unparalleled. She further emphasized that winning a title held little importance to her, and she placed greater value on her ability to make a meaningful impact than on any championship she might have earned.
"Can I at least make a damn difference while I'm sitting here?" Evans asked about her WWE tenure. She believes that the company's charity towards military veterans didn't extend to their contracted superstars. "At least let me go and make a difference ... but it's business. They don't got time for that."
Evans says that talking about her trauma, mental health struggles, and growing up with parents addicted to drugs, weren't things WWE felt would be big money-makers for their program.