Nick Aldis Explains Making Peace With The Idea Of Never Making It To WWE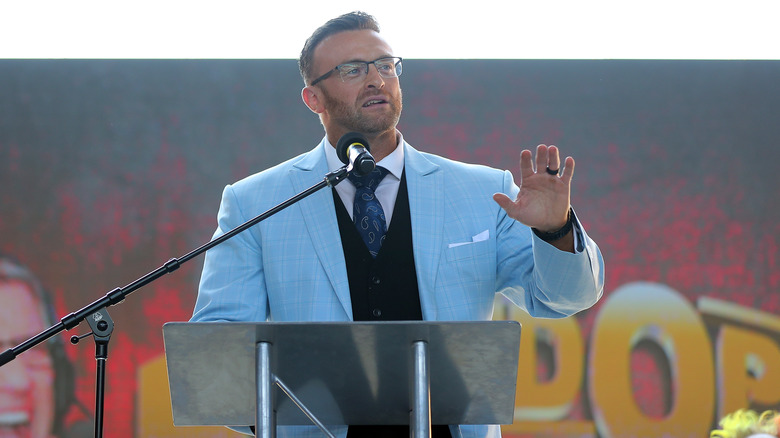 Omar Vega/Getty Images
"WWE SmackDown" has a new sheriff in town, and that sheriff is General Manager Nick Aldis. A former Impact Wrestling World Champion and NWA World's Heavyweight Champion, Aldis never wrestled for WWE, and the newly-minted GM explained on "Busted Open Radio" that he accepted the fact that he likely never would several years ago.
"It was actually something of a turning point for me," Aldis said. "It helped me embrace some of the other opportunities that sort of came my way. I think I might've wasted some time with always having one eye on WWE, and eventually, I had an epiphany where it's like 'Look, they're gonna give you an opportunity or not, all you can do is be the best version of you that you can and show the world your vision of who you want to be.'"
Aldis understands that he has no control over the opportunities that come his way, only how he handles them, referencing turning Brutus Magnus into a world champion-caliber character, as well as his work not only reviving the NWA but the NWA title, and pointing out his role in the headlining match at the original All In against Cody Rhodes.
"When you think about what I did with those opportunities, [being the "SmackDown" GM] is the biggest opportunity that I've had, and I'm fully ready to execute," Aldis said.
Aldis joined WWE earlier this year as a producer, becoming an on-screen foil for "WWE Raw" General Manager Adam Pearce just months later.