Turner Classic Movies Host Ben Mankiewicz Weighs In On AEW Dynamite Spoof Segment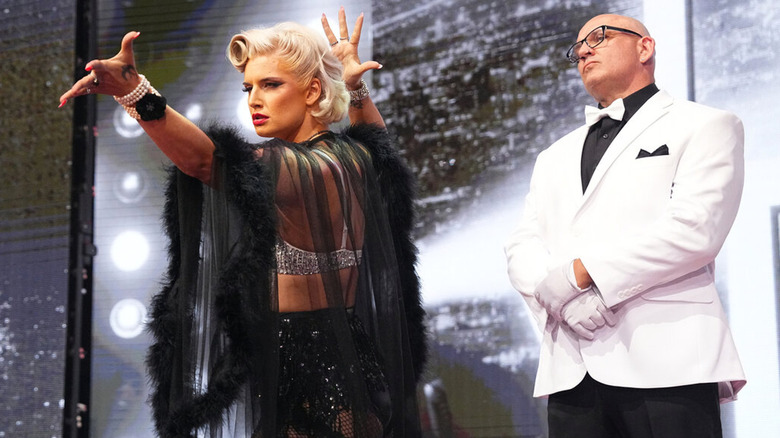 AEW
Before AEW backstage personality RJ City announced "Timeless" Toni Storm's newest silent short film, "Hold That Butler," on the October 25 episode of "Dynamite," he introduced himself as "not Ben Mankiewicz," referring to the man who has been the host of Turner Classic Movies since September 2003. TCM is, of course, owned by Warner Bros Discovery, who also owns the cable channels that air AEW programming, TNT and TBS, and Mankiewicz himself reacted to the clip on X, writing, "I don't entirely know what's happening here, but I'm obviously into it."
"Hello, I'm not @BenMank77"@RJCity1 making things clear ahead of the latest picture from "Timeless" Toni Storm#AEWDynamite pic.twitter.com/jgDksILIsr

— AEW on TV (@AEWonTV) October 26, 2023
City, of course, replied to Mankiewicz' post, saying "We're here if you need anything." He was subsequently admonished by the official AEW on TV X account on the grounds that "The TCM holiday party kicks ass and we want an invite."
It's safe to say that City has helped a little bit with the "Timeless" character, from interviewing Storm during her official transformation to now presenting her short films, which air when AEW goes to picture-in-picture. Storm's "classic Hollywood" gimmick isn't too far from what viewers can watch on TCM, either — think Norma Desmond (played by actress Gloria Swanson, best known for her glamorous roles in the silent era) from the 1950 film, "Sunset Boulevard") or a character from another 1950 film, "All About Eve," Margo Channing, played by the larger than life actress, Bette Davis. So for those who love both classic cinema and pro wrestling, having Mankiewicz's name dropped on this past Wednesday's episode of "Dynamite" is the TV crossover we never knew we needed.