Road Dogg Offers His Thoughts On Ric Flair's AEW Debut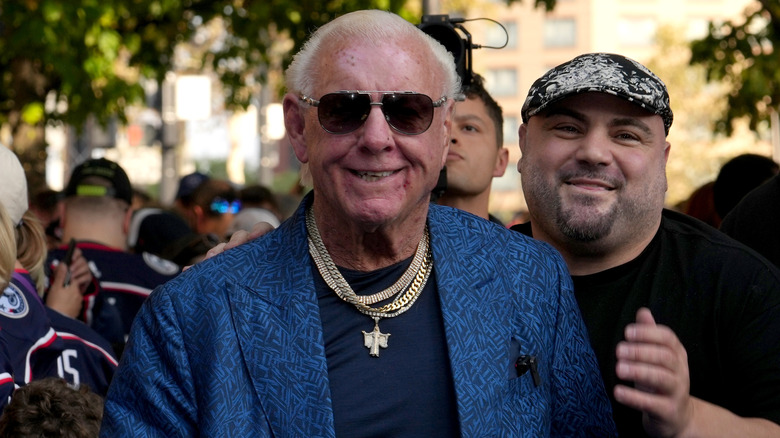 Jason Mowry/Getty Images
WWE Hall of Famer Ric Flair returned to television screens on Wednesday, as the former NWA Worlds Heavyweight Champion was AEW President Tony Khan's gift to Sting, as "The Stinger" begins his road to retirement next year at AEW Revolution. Fellow WWE Hall of Famer "Road Dogg" Brian James touched on Flair's return during an exclusive episode of "Oh You Didn't Know!" on YouTube.
"He just keeps on going, like the Energizer Bunny and I don't know what's gonna happen there," James said. "We'll see. Maybe it's a one-off."
While James assumes Flair's appearance would be singular, Sting has said that Flair will be with the former TNA World Champion for the rest of his upcoming retirement tour. There is still no word on when or where AEW Revolution will take place next year.
Flair's return comes after the controversial star retired in July last year, winning a tag match alongside his son-in-law Andrade El Idolo in a match against Jeff Jarrett and Jay Lethal, all of whom are now AEW talent. Flair had previously said that he would be happy being a manager in AEW but so far nothing had come of his comments. Flair had been rumored to be in talks with AEW to join the promotion but the infamous "Dark Side of the Ring" episode about the transatlantic flight where Flair allegedly assaulted a flight attendant supposedly put a pause on Flair coming aboard the company. It is not clear how often Flair is set to appear on AEW programming going forward.