Bully Ray Questions Ref Credibility In Recent AEW Main Event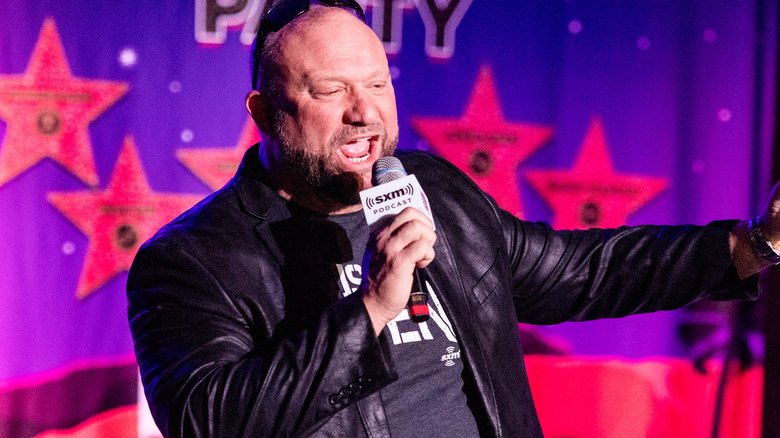 Timothy Norris/Getty Images
On Saturday, AEW World Champion MJF defended his title against Kenny Omega in a punishing match, but on "Busted Open Radio," WWE Hall of Famer Bully Ray took umbrage with one moment in the contest in particular.
"A table is pulled out. A table is used. Right in front of the referee. How is that not a disqualification?" Bully asked, suggesting that something as simple as a referee bump could've made the moment land better with the WWE Hall of Famer. Ray believes that the sloppy planning wouldn't have flown in WWE.
"If me and Mark Henry were wresting a match for [a world championship] you can bet your ass that me and Mark would never sit down and plan to pull out a table right in front of the referee and use it," Bullys said. "Because we know it would be wrong psychology, and we know that by the time we get through Gorilla [Position], me, Mark, and the referee would have our bags packed and would be fired by Vince [McMahon] personally."
"It's true," Henry confirmed. "He might not fire you, but you'll definitely get fined."
Bully says that so blatantly disrespecting the referee in a match like that is akin to disrespecting the entire profession of professional wrestling referees.
"Mike Chioda and Earl Hebner would be like, 'You can't do that in front of me,'" Henry said.
'Make it so I don't look stupid'
AEW
Later in the show, Earl Hebner himself called in to chime in on the situation.
"It's either drop me so I don't see it, make it so I don't look stupid ... but other than that, it's like nut shots," Hebner explained. "I tell guys, 'If you got nut shots, tell me now,' because I can work around them, but if I see them I call for the bell."
Bully Ray and Mark Henry took a modicum of pride in Hebner agreeing with their take on the match's undermining of wrestling's authority figures, but still had more to say.
"To me, it takes credibility away from everybody," Bully said later with a caller. The longtime table advocate felt that the way the table was used in the "Collision" main event not only undermined the match but the moment itself, as the use added nothing to the contest itself or the stakes.
"Don't just use it for the sake of using it," Bully said. "Why is the referee just staring at it? ... Wrestlers have to be smarter about protecting referees, and referees need to have enough confidence in themselves to speak their mind if the wrestlers aren't protecting them in the first place."
AEW referees have not had issues with kayfabe moments like foreign objects and other nefarious tactics in the past, and also have come under fire for recently missing serious injuries, as in was the recent case of referee Rick Knox and Jon Moxley.