Creed Brothers (With Ivy Nile) Defeat Alpha Academy In WWE Main Roster Debut On Raw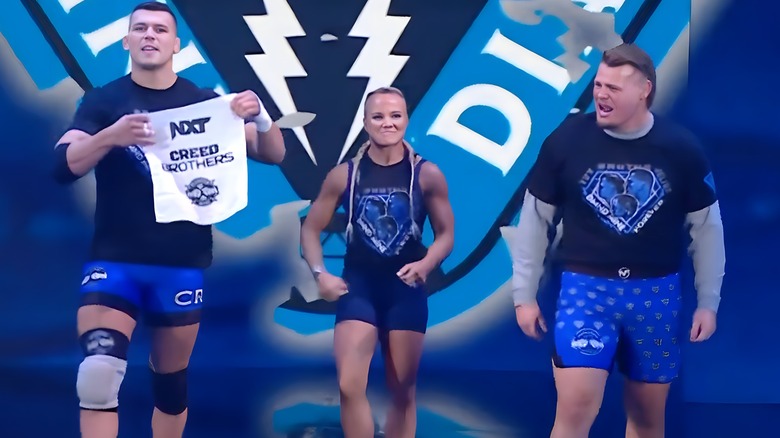 WWE
After accepting Alpha Academy's open challenge via social media earlier in the day, The Creed Brothers arrived on "WWE Raw" and made the most of the opportunity, earning the victory after a Brutus Ball on Otis.
Accompanied by Ivy Nile, Brutus and Julius Creed made their way to the ring for this two-on-two showdown of bona fide amateur wrestling backgrounds. Julius kicked things off against Chad Gable, quickly showing the Greenville crowd his the trademark strength that he and his brother possess, starting from his knees to lift Gable into a vertical suplex before handing him off to Brutus to complete the move. Otis eventually scored a near fall following The Caterpillar, but Julius kicked out and turned the tides with a jumping knee.
Attempting to give the edge to Alpha Academy, Maxxine Dupri tried to distract the referee but Nile stormed around the ring and pulled her off the apron before attempting a distraction of her own, but Dupri returned the favor. Academy "junior cadet" Akira Tozawa tried to play intermediary but ate a suplex from Nile for his efforts.
Ultimately, the newcomers would get the glory, with Julius somehow hoisting the monstrous Otis into an electric chair position, setting up Brutus to hit The Brutus Ball and secure the 1-2-3 in their main roster debut.