Kevin Nash Suggests Stipulation For Roman Reigns & LA Knight At WWE Crown Jewel 2023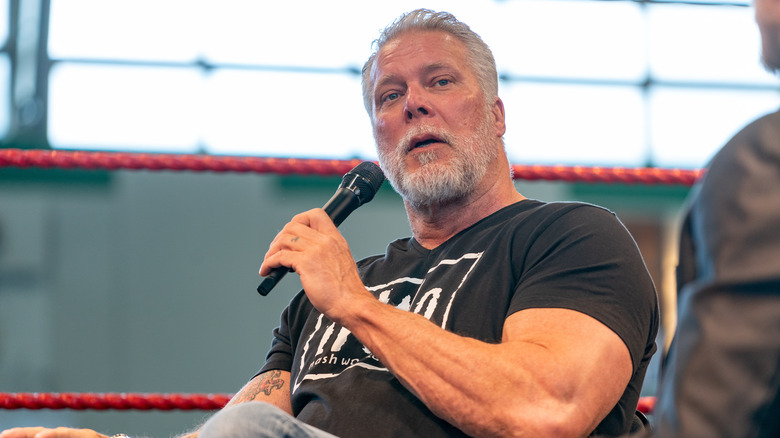 Markus Wissmann/Shutterstock
WWE Crown Jewel is coming up soon and Hall of Famer Kevin Nash is beating a familiar drum as the Saudi Arabian PLE nears. He believes that Roman Reigns retaining his Undisputed WWE Universal Championship over LA Knight is a given. On the latest "Kliq This" podcast, Nash suggested a way to add some drama to the big title match.
"If you wanna draw me in, make it a no-DQ match," Nash explained. "Now I'm like [delighted grunt] Roman's gotta beat him clean. Are they willing to kibosh this kid's run or are they gonna put 1,000 days of the company on a 40-year-old LA Knight?"
Nash thinks that Knight should have as competitive a match as possible. However, ultimately, the former Impact World Champion shouldn't be able to overcome the odds, as per the WWE legend. He feels WWE has invested too much time and money into Roman Reigns's historic title run, as well as Cody Rhodes's potential dethroning of "The Tribal Chief," to take a chance on the admittedly popular Knight.
"You've got Cody on the back burner ... so it's like you can't [have] two guys be the foil to Roman," Nash explained. "The money's always gonna be in the chase. As long as Cody's chasing, he's not hurt. How many great fighters have been dodged by guys? It makes their legacy strong."
Rhodes and Reigns have been teasing another match in various confrontations over the past few months, lending credence to old reports that the current long-term plan for WrestleMania 40's headlining bout is to feature the WrestleMania 39 opponents.