Eric Bischoff Explains Why The 'New Car Smell' Has Worn Off AEW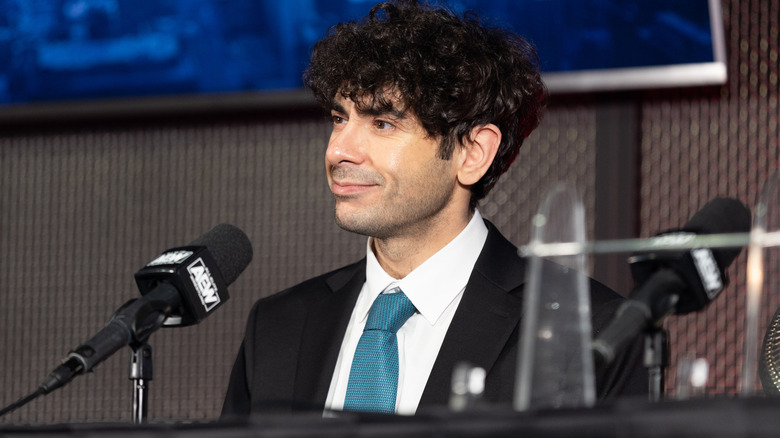 AEW
Eric Bischoff was Executive Director of the "WWE SmackDown" brand when "AEW Dynamite" debuted in October 2019. Bischoff sat in the WWE writers' room in Stamford with hopes that Tony Khan's promotion would eventually test WWE for pro wrestling supremacy. Fast forward four years later and Bischoff believes AEW has missed the boat in its quest to challenge WWE, pointing to AEW's dwindling ticket sales at recent television tapings. 
"The new car smell has worn off," Bischoff said of AEW on "Strictly Business," recalling his excitement for AEW's early days. "I was excited because I knew competition makes everything better, so I was very optimistic like a lot of fans were. When AEW announced Arthur Ashe, I went online and jumped in with both feet supporting it, because, again, it felt like there was momentum ... that would put pressure on WWE, which I knew would be a great thing. But, over the last couple of years, the fans' willingness to forgive some of the things that — consciously or subconsciously — they know were flaws."
Bischoff believes AEW's strategy to switch to a monthly PPV format will further repel fans who sought a WWE alternative, stressing that the quarterly PPV format made each AEW show feel more important. "You're hearing and seeing a lot more critique of the AEW product, and you're also seeing significant loss of live gate — consistent now, in most markets." 
Despite struggling to sell out recent shows in Kentucky and Ohio, AEW's ticket sales in bigger markets such as California and New York have remained healthy, which, Bischoff attributes to the abundance of fans in the latter states. "If they don't do well, it's more to do with the time of the year as [opposed] to some of the challenges faced by AEW."