Taskmaster Kevin Sullivan Offers Advice To Young Wrestlers Today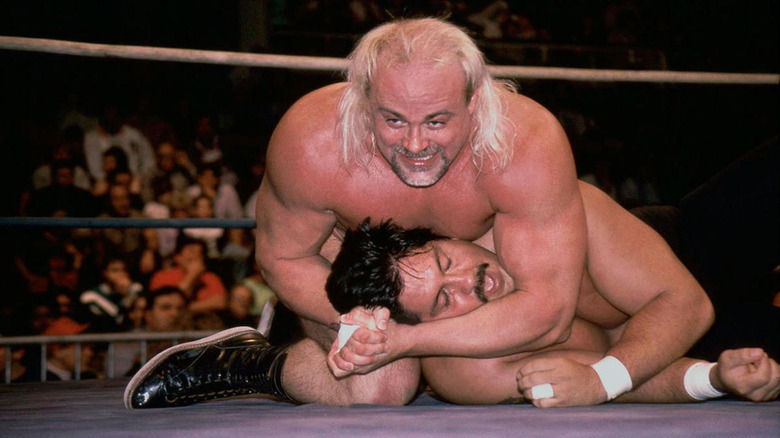 WWE
"The Taskmaster" Kevin Sullivan has a long track record in professional wrestling, and he has one simple piece of advice for young wrestlers. 
On the latest "Busted Open Radio," he was asked how current stars could replicate his longevity, and he urged them to build a believable character. "Develop your character," Sullivan said bluntly, pointing out that Bully Ray carried the same character for over 25 years because it was believable. "You didn't have to do all those flips and flops and stuff. They thought you were the toughest human being walking the planet." 
Sullivan believes that the WWE/UFC merger is an opportunity for WWE to make their product look more legitimate, as they have an actual combat sports league as a business partner. But he sees the business heading in a troubling direction as too many wrestlers are trying to wrestle for Dave Meltzer and his coveted 5-star rating, which has led to a homogenization of the business.
"I don't know if Dusty [Rhodes] ever got a 5-star rating, but he sure put a lot of asses in seats," Sullivan explained. He argued that the Hall of Famer was a master at getting inside the audience's head, and thinks there are certain stars that are actually creating the right kind of aura.
"I think Brock [Lesnar] did it the right way," Sullivan said. "There's a special buzz when he comes in through the audience. Roman Reigns ... he followed The Rock's series, when he first got there they pushed him and pushed him and pushed him and they're yelling at him 'Rocky's horrible,' then all of the sudden, we're past 1,000 days [as champion] now." 
He pointed out that Reigns is able to make his babyface opponents believable threats, pointing to the popularity of Sami Zayn earlier this year, who lost to Reigns at Elimination Chamber but still had the crowd singing his song for a long time.