Ric Flair Discusses What It Felt Like To Debut With AEW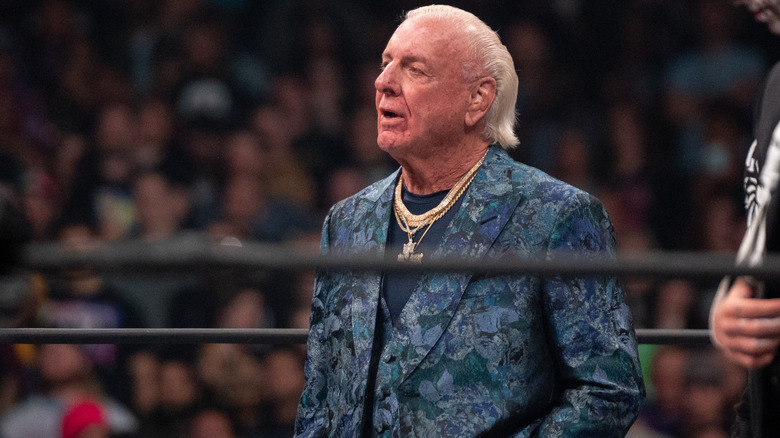 AEW
"The Nature Boy" Ric Flair is All Elite, not only bringing his name and famous face to AEW, but also becoming the promotion's official energy drink supplier. Flair's surprise debut, a gift for the retiring Sting.
"I can't put it into words," Flair told Variety. "It was huge. I was nervous until I walked through the curtain, and then I went out like, 'Here I go. It's where I belong.'" Flair had initially reached out to Tony Khan simply as a representative of his mushroom-infused energy drink, Wooooo! Energy, but the timing worked out and Khan has brought Flair into the company for a multi-year deal. Flair went on to explain that he was impressed with the way that the AEW President has commanded the respect of the locker room through a calm and cool demeanor.
Flair entered the energy drink market recently, brought about by his business partner Chad Bronstein, who also introduced Flair to the legal cannabis industry, which led to the launch of Ric Flair Drip which is part of boxing legend Mike Tyson's cannabis brand. While Flair is set to be in AEW long past Sting's impending retirement at next year's Revolution event, the Wrestling Observer's Dave Meltzer recently expressed surprise that AEW would bring the controversial WWE Hall of Famer into the company for a prolonged period of time, noting the former world champion can be a liability both in and out of the ring. Divisive as he may be, Flair's appearance was a special moment not only for Sting but for AEW's Tony Schiavone, who has worked with Flair for decades.