WWE's Cody Rhodes Invokes Paul Heyman Bloodline Quote When Talking Teammate Jey Uso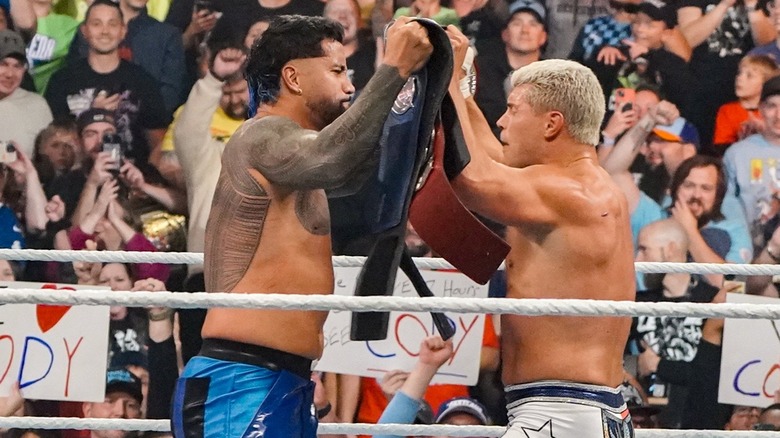 WWE
The long-running story of The Bloodline has often been compared to that of a baseball game. Following some of the wrinkles in the saga that showed up earlier this year at SummerSlam, Paul Heyman remarked that things were only in the "bottom of the third" inning. But considering The Bloodline has been going since 2021, and there are nine innings in a standard game on the diamond, is anyone sure of exactly where in the process we are right now?
Cody Rhodes might be a little confused himself. In a recent interview with Sports Illustrated, "The American Nightmare" shared that not only has it been helpful for him to lean on tag team veteran Jey Uso as an exception teammate — but Uso helps him keep track of the long-term narrative being told. 
"Jey has been a superb teammate," said Rhodes. "I need to ask him what inning we are in."
Rhodes has expressed his focus on once again facing Roman Reigns in order to "finish the story" and lay claim to a particular championship that has eluded his family for decades. He had one chance at it at WrestleMania 39 and came up short. He'd like another shot at the top prize at WrestleMania 40. However, even if Rhodes can dethrone Reigns next year and become the Undisputed WWE Universal Champion, does anyone know if that will finally close out this Bloodline game? Because it sure seems like this one could go into extra innings if WWE creative wants it to be so.