Details Behind Former WWE NXT Star Sareee's Deal With Sukeban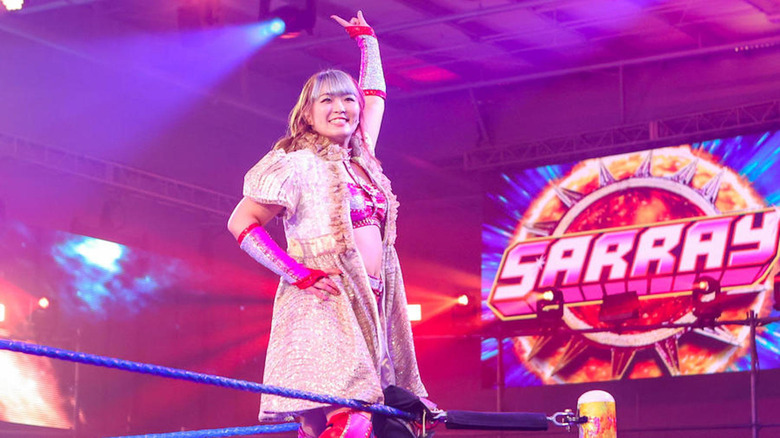 WWE
Sareee has found a new wrestling home. Formerly known as Sarray in "NXT," the Japanese women's wrestling star has inked a deal with the up and coming American Joshi promotion Sukeban for several years that will see her get started at the company's second-ever show sometime next month in Miami. 
Sukeban, which is built around the concept of four battling stables of wrestlers, also announced that Sareee would be joining the Cherry Bomb Girls and already had her first match set. In a Special Attraction Four Way Match, Sareee will face off with Countess Saori (representing Dangerous Liasons), Atomic Banshee (Vandals), and Babyface (Harajuku Stars). More details on the specific when and where of the Miami show are expected in the coming days with the Sukeban World Championship bout between Ichigo Sayaka and Commander Nakajima as the only other bout booked thus far. 
WWE signed Sareee in early 2020, and the timing couldn't have been worse for her to come overseas to make her debut in developmental. The COVID-19 pandemic delayed her transition stateside and, from there, she then struggled to find her footing creatively. Eventually, her contract expired, and she and WWE parted ways with Sareee expressing gratitude for the entire experience earlier this year — regardless of how it turrned out. 
There had been rumblings as of late that WWE might be taking another run at bringing Sareee back into the fold — perhaps as part of the Joshi stable we saw the beginning stages of over the weekend centered around IYO SKY and Kairi Sane. But obviously that is no longer in play with Sareee opting to go elsewhere for the next chapter in her wrestling journey.