Marina Shafir Explains How MMA Injuries Led To Her Time In WWE Developmental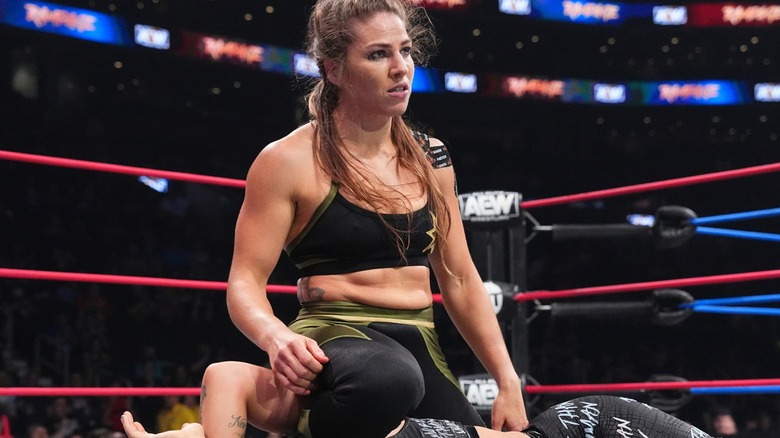 AEW
Former MMA fighter Marina Shafir is now a pro wrestler, and it all happened because she found herself in WWE's developmental system in 2018 due to an injury.
"It's a wave called life," Shafir said on "Wilde On" recently. The former Invicta fighter found herself suffering from a lingering neck injury that had caused other issues and had to leave her original combat sport. 
"I had to take them f***ing serious and rehab them because if I didn't, I wouldn't be able to use my left hand," Shafir continued, "just some really bad neck sh**, and it spooked me, so I kinda went on a healing path." Shafir says that she soon got pregnant and moved to Florida with her husband Roderick Strong, who was starting with "WWE NXT" at the time.
"I was hustling. I was a stunt worker... And then I kinda tried to hustle in the entertainment business," Shafir said. She eventually found herself choosing between managing a coffee shop or going to trade school when WWE reached out. "They came to me and were like, 'Hey, there's an opportunity for you,'" Shafir recalled, as her friends and fellow MMA fighters Ronda Rousey and Shayna Baszler had already joined WWE.
"I would've been an idiot not to take it," Shafir said, noting that she was just starting to hit her prime as an athlete.
"Everything I learned at NXT, I still use to this day," Shafir said. "I had great coaches. But the system doesn't f***ing make sense." Shafir credits her husband's ability to thrive in odd environments with helping him succeed in NXT. The two are now both signed to AEW, and Shafir is also wrestling for independent promotions like Lucha VaVoom, where she recently teamed with Ronda Rousey in a surprise appearance for the former UFC Champion.
If you use any quotes from this article, please credit "Wilde On" with a h/t to Wrestling Inc. for the transcription.