Why Mark Henry Says WWE Crown Jewel 2023 Main Event Outcome Is A Big Deal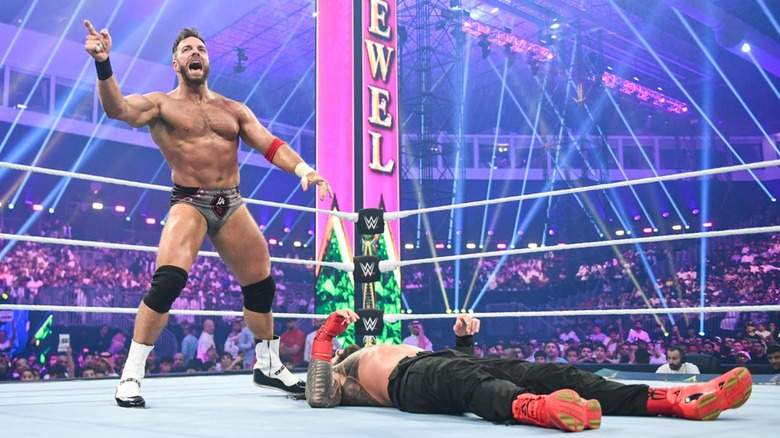 WWE
LA Knight came up short in his quest to dethrone Roman Reigns at WWE Crown Jewel 2023, but Mark Henry believes it's important to consider the way Reigns won the match. As has been the case with most of Reigns' title defenses over the past few years, "The Tribal Chief" required assistance from The Bloodline to put away Knight, an outcome that Henry believes bodes well for the future of Knight.
"Will Roman Reigns win that match without interference?" Henry asked on "Busted Open" reviewing Crown Jewel. "The way it was presented, Roman wouldn't have won that match if there wasn't interference — he needed help to beat LA Knight. That is big, y'all." Henry then praised Knight for holding his own in his first-ever main event match, especially while going up against a man he considers the Michael Jordan equivalent to pro wrestling. 
"You can't talk about elite pro wrestling without mentioning Roman Reigns," Henry stressed. "You just can't — If you do, you're hating. If I have Roman Reigns as my bell cow, he'd do exactly what the hell he's doing. He would show up, point the finger in the air, direct some stuff, tell people where to go, and then I would take his ass back to his hotel — in a limo. Because if he gets injured, the pay-per-views are over with, and the ratings dive. That's how powerful he is!"
Henry noted that he'd rather have Reigns "wrestle five to ten times a year" due to the value he brings to WWE programming during his every appearance. As such, Henry is perfectly fine with the Undisputed WWE Universal Champion's part-time schedule. "Roman Reigns has become the modern-day Andre — he's an attraction," Henry added. According to several reports, Reigns is unlikely to wrestle a match before the 2024 Royal Rumble.