Big Update On WWE Survivor Series Status Of Brock Lesnar And Roman Reigns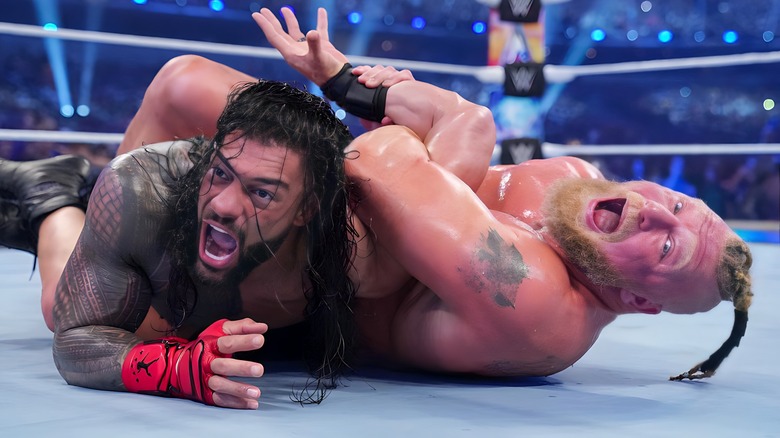 WWE
WWE Crown Jewel might be only a week away, but many wrestling fans are already looking ahead to Survivor Series on November 25, and new reporting from the Wrestling Observer Newsletter indicates that, despite it being one of WWE's "big four" premium live events (along with SummerSlam, Royal Rumble, and WrestleMania), two of the company's biggest stars are not currently scheduled for the Chicago show.
Most notable is the reported absence of Undisputed WWE Universal Champion Roman Reigns, whom the Observer's Dave Meltzer claims is not booked for Survivor Series; Meltzer says Reigns' next PLE match following Crown Jewel will take place at the 2024 Royal Rumble. This is a departure for Reigns — "The Tribal Chief" made his main roster debut at Survivor Series 2012 as part of The Shield and has only missed two Survivor Series events since, both for medical reasons. Not wrestling at this year's Survivor Series would be the clearest sign to date that Reigns' already limited scheduled has become even more limited this year. Crown Jewel will be only his seventh televised match of 2023; for comparison, he wrestled 11 televised matches in 2022 and 20 televised matches in 2021.
Less surprising is the news that Brock Lesnar is also not expected to return until the 2024 Royal Rumble, or the TV leading up to it. It had been reported earlier this week that Lesnar was set to miss his first Saudi event in the form of Crown Jewel, and Meltzer says Lesnar taking a break between SummerSlam and the Rumble has been the plan for months, and factored into the decision to have Lesnar put over Cody Rhodes clean in their SummerSlam match.
Reigns and Lesnar now join CM Punk as major stars who don't seem likely to appear at Survivor Series, though it seems more and more likely each week that the event could play host to Randy Orton's long-awaited return from injury.