Former WWE Personality Jonathan Coachman Assesses AEW Champ MJF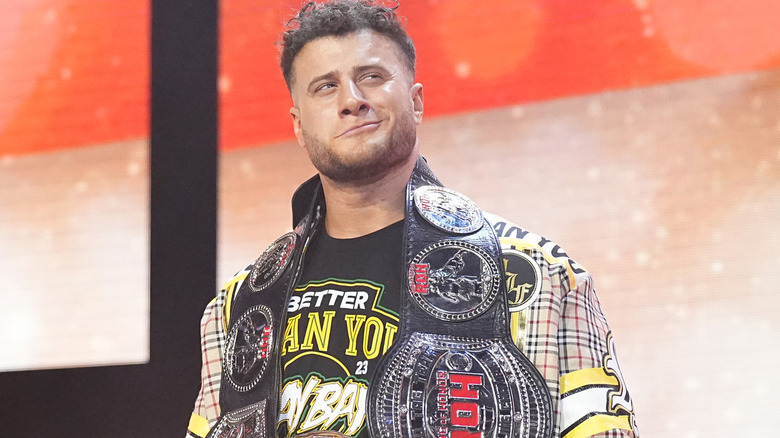 AEW
WWE Hall of Famer Mark Henry recently touted MJF as "brilliant beyond his years" for his efforts in not only boosting himself but All Elite Wrestling as a company too. Former WWE personality Jonathan Coachman has now offered up his own praise for the AEW World Champion, honing in on MJF's unwavering sense of confidence.
"There are very few people, that in the history of the business, have figured it out," Coachman told "Insight With Chris Van Vliet." "When I watched this kid a few years ago, he was just young and didn't even have a home for wrestling. I'm watching this arrogance and I'm like, 'Boy, how would that play in the WWE locker room?' And not only did he not stop, he kept doubling down. What did he have that everybody else doesn't? He can talk better than anybody else. If you know it's great, they can't say anything."
To illustrate his point, Coachman referenced MJF's appearance on the AEW WrestleDream post-show press conference, in which he sat beside AEW President Tony Khan. When discussing the surprise arrival of Adam Copeland, MJF referred to him by his former WWE ring name of Edge — a gesture that Khan quickly corrected MJF on.
"[MJF] does that on purpose. That's what I'm saying, he's playing chess," Coachman said. "He knew he was supposed to say 'Adam Copeland,' but he knew that if he said [Edge], then Tony's going to be off camera and there's literally nothing Tony can do. I believe this to be true."
With MJF supposedly approaching the "bidding war of 2024," Coachman also believes the future free agent is about to become the highest-paid superstar in the entire history of the wrestling business. 
If you use quotes in this article, please credit "Insight With Chris Van Vliet" and provide an h/t to Wrestling Inc. for the transcription.