Mark Henry Explains Why AEW World Champion MJF Is 'Brilliant Beyond His Years'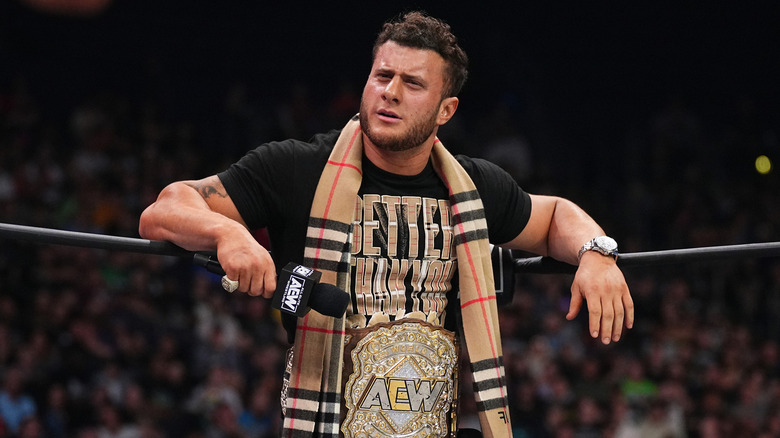 AEW
Mark Henry has lavished praise on MJF's willingness to put AEW ahead of his own personal achievements, which he believes demonstrates the AEW star's maturity beyond his years.
Booker T, on his "Hall of Fame" podcast, asked Mark Henry why there hasn't been a lot more focus on MJF on AEW television lately. The Hall of Famer responded by stating that the AEW World Champion thinks about the greater good of the company.
"I think that he's polarizing enough that every show you already market the fact that MJF is going to be there," said the AEW talent. "For him not to be greedy when he could be, he could say, 'No I don't want Edge, I don't want Adam Copeland, I don't want Bryan Danielson, I don't want Samoa Joe, I don't want a CM Punk, I want the spotlight for myself' means that he is, just like I said just a minute ago, a guy that wants the greater good. That wants to be successful not by the means of it's just me, but successful by the means of the organization and the program that you're trying to build. He is brilliant beyond his years."
Henry has been effusive in his praise of the AEW World Champion, and even recently drew parallels between MJF and WWE Hall of Famer, "Stone Cold" Steve Austin.
Henry on MJF's helpful nature behind the scenes
AEW
Mark Henry also highlighted another aspect of MJF which is seldom seen by fans — his helpful nature behind the scenes in AEW to make the show a grander spectacle.
"You walk in the locker room and he helps with production, he helps with, you know, helping write for people that can't do it for themselves," said the Hall of Famer. "He goes and supports — and you see him going through like what camera angles to take. He's 20 some years old. You don't find that very often. To have that understanding, I'm like, 'Where the hell do you get this from? 'And it's just him." 
Henry believes the secret to MJF's talent and great knowledge of the pro wrestling business is his desire to learn and pay attention. "He pays attention and he understands that it's not just about him. If he wanted to take it, ain't nobody that can stop him. There's nobody there that can stop him," said Henry.
Booker T added to Henry's admiration of MJF, calling the AEW World Champion an extraordinary talent. "I feel the same way, he's an extraordinary talent. He's an unbelievable kid," said the two-time Hall of Famer. 
MJF hasn't defended his AEW World Championship since his match against Samoa Joe in September, but that will change at Full Gear when "The Salt of the Earth" puts his title on the line against Jay White.