Corey Graves Shares Memories Of Late Friends And WWE Stars Bray Wyatt And Brodie Lee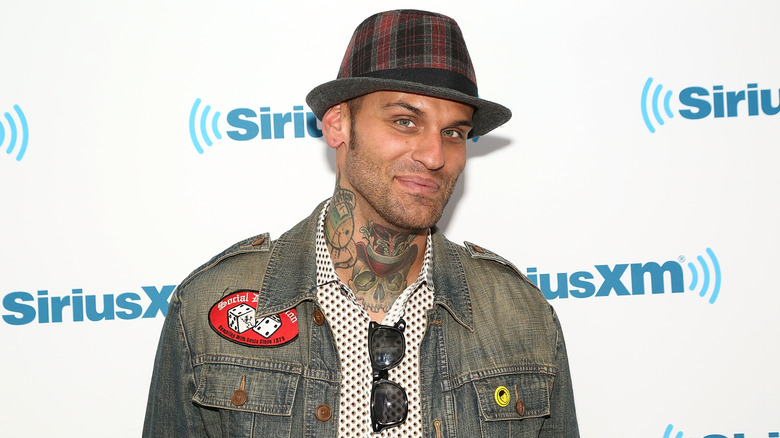 Monica Schipper/Getty Images
WWE commentator Corey Graves began his career in the company as a wrestler, first in FCW and then "WWE NXT," and during his time in WWE's developmental program, he forged a friendship with Jon Huber and Windham Rotunda, who would go on to be known as Brodie Lee/Luke Harper and Bray Wyatt respectively. Over a decade later, both men have passed away, Huber in 2020 and Rotunda earlier this year, and Graves spent some time on "The Kurt Angle Show" remembering his fallen friends.
"You would be hard-pressed to find two better dudes in the business, in the world [than Brodie Lee and Bray Wyatt]," Graves said. "Brodie, I knew when he was sorta breaking in in the Buffalo area ... he was always so happy-go-lucky." 
According to Graves, Huber cut the most intimidating figure in many locker rooms but had a bright, humble, nerdy personality. He revealed that he and Huber brought their families together for Thanksgiving during their time in Florida Championship Wrestling, comparing the dinner to the Island of Misfit Toys from Rudolph The Red-Nosed Reindeer.
"His laugh and his smile, Jon was such a sweetheart of a human being," Graves remembered fondly. "It's still surreal that he's gone and [to the same extent] Windham."
Graves says that he first met Rotunda after his tenure with The Nexus had fizzled out and the former "Husky Harris" had been sent back to developmental to come up with the character that would eventually become Bray Wyatt. He thought that Rotunda would not last long in the company due to his trajectory but when he landed on the Wyatt character everything changed.
"I remember being in the promo class the first time Windham unveiled Bray and you coulda heard a pin drop," Graves remembered. "We all sat there and everyone looked at each other and looked at Dusty, and I don't think Dusty even said anything for 30 seconds or a minute. No one had ever seen Windham do anything like that."