Mickie James Calls WWE Hall Of Famer Kurt Angle Her Hero Over TNA Clip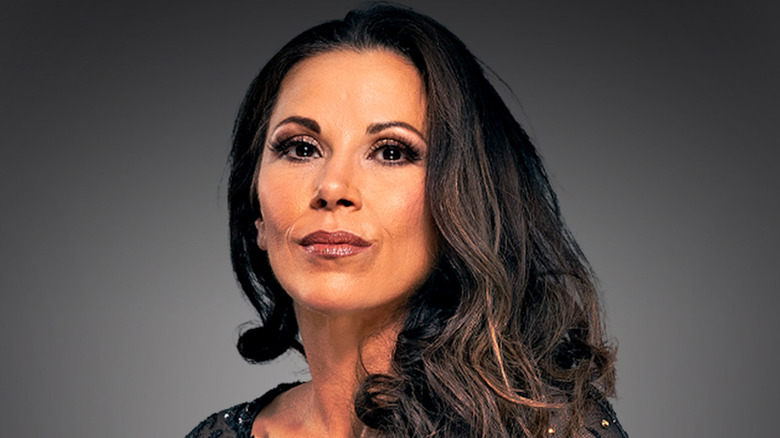 TNA
As an Olympic hero, Kurt Angle has been an inspiration to many across the globe. But as it turns out, one of the people he's affected most of all is a bit closer to home — his long-time colleague Mickie James — and it appears to have very little to do with anything involving his wrestling.
On X (formerly Twitter), Mickie James retweeted a video of Angle sucker-punching, and then attacking, TNA ring announcer Dave Penzer several years go. This particular incident brought great joy to James, who claimed that Angle was her hero because of it, before telling Penzer that it was all his fault. James failed to elaborate on the particulars of why Penzer's merciless beating was justified.
Dear @RealKurtAngle you're my hero. @davidpenzer it's all your fault. https://t.co/wdfwQHgtEq

— Mickie James~Aldis (@MickieJames) November 8, 2023
While Penzer has not responded to James' comment, he did — in a response to the initial tweet — admit that he is able to laugh about it all now. However, he also shared that Angle's assault took its toll, making him feel like the Elephant Man for nearly two weeks afterward.
I laugh about this now but damn he made me the Elephant Man for a week or 2... https://t.co/dEN2tscald

— David Penzer (@davidpenzer) November 7, 2023
As it turns out, Penzer wasn't kidding. The angle, which took place on "TNA Impact" in October of 2008, saw Penzer legitimately injured when Angle first struck him in the face. Penzer would then miss some time following the incident as he recovered. He held no ill will toward Angle afterward, and the two have since remained friends.