Former WWE Star Mandy Rose Calls NXT Talent A 'Standout'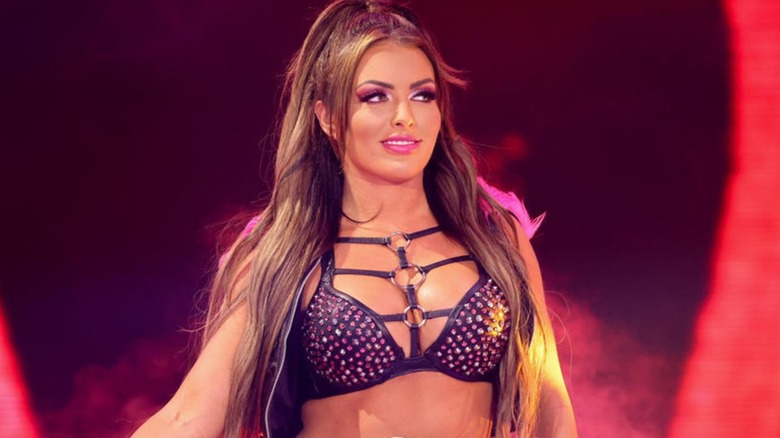 WWE
Not many have picked up the pro wrestling business as quickly as Tiffany Stratton, who only began her wrestling training in 2021. However, another former "NXT" Women's Champion also took a somewhat unconventional path into the ring: Mandy Rose. Rose found her way into the industry after auditioning for "Tough Enough," but she was first involved with fitness and bodybuilding competitions — much like Stratton started in gymnastics — rather than wrestling on the indies like so many of her peers. In a number of ways, Stratton has been the spiritual successor to Rose in "NXT" since the latter's abrupt dismissal from WWE last year. Yet despite watching from afar, Rose is incredibly proud of Stratton's growth between the ropes.
"Obviously I love what Tiffany Stratton has done since I've been away from there," Rose told "Busted Open Radio" earlier this week. "I've seen some comparisons of them trying to make her like me, which I don't agree with. I think she's her own person. We all can be compared to people, like, I love being compared to [Trish] Stratus, but I'm my own person as well."
Rose is admittedly not shocked to see the strides taken by Stratton, pointing to the times she watched "Buff Barbie" training tirelessly in the WWE Performance Center. "She's an incredible athlete," Rose said of Stratton. "Even when I was training over there, the way she was progressively getting better — so fast — was just wild." 
As WWE continues to make moves to bolster its women's division, Rose is equally proud of her other peers in "NXT," many of whom only started training a few years ago as well but have recently made it to television. "Some of these girls started training or just got there, and now they're having these amazing matches — I'm like, 'Wow.' It's crazy to see, which is awesome."