Tommy Dreamer Ranks Worst Booking Decisions In Wrestling, With #1 Featuring WWE Legend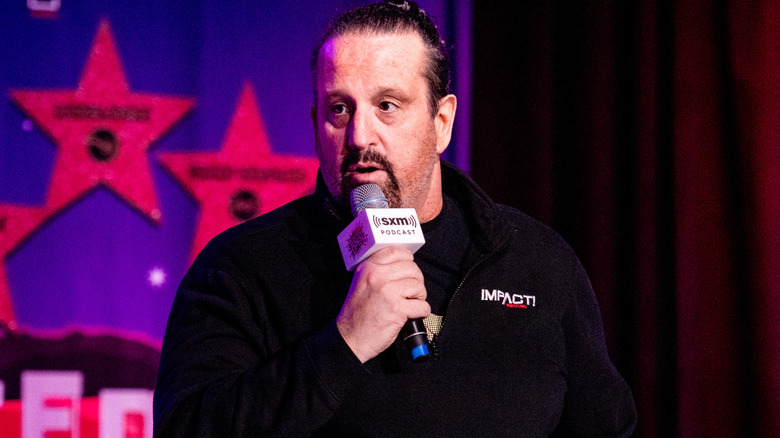 Timothy Norris/Getty Images
Wrestling's worst booking decisions was a recent topic of conversation on "Busted Open Radio." For ECW legend Tommy Dreamer, the most glaring creative blunder occurred in the midst of WWE WrestleMania 30, when The Undertaker's illustrious undefeated streak came to a shocking end at the hands of "The Beast" Brock Lesnar.
"I felt that ['the streak'] meant as much as WrestleMania," Dreamer said. "It's something that could have continued. And if you think about it, that show, everything [was] taken out of the building. All the energy, that main event, was affected by Brock beating The Undertaker and ending that streak. That's the most that we talk about from that. And did it really help Brock Lesnar get to the next level? No, because Brock was already there."
Heading into WrestleMania 30, The Undertaker was backed by an imposing 21-0 record at the respective WWE pay-per-view. Upon Lesnar's streak-shattering victory over The Undertaker, though, fans were left in a state of disbelief, bewilderment, and utter silence. Outside of the depletion in energy after the match, Dreamer asserts that the streak's conclusion would've better served if it was bestowed to a talent that needed a legitimate boost in their careers.
"I just think it was a horrible booking decision," Dreamer said. "It made you more pissed. It wasn't heat, and didn't help elevate Brock because Brock was already there."
Lesnar's WrestleMania 30 win over "The Deadman" has remained one of the most divisive points in wrestling history, with some declaring that The Undertaker should've stayed undefeated at "The Show of Shows." Others, however, believe WWE made the right call that night. 
If you use quotes in this article, please credit "Busted Open Radio" and provide an h/t to Wrestling Inc. for the transcription.