Bully Ray Speculates On WWE's Plans For Roman Reigns' Title Run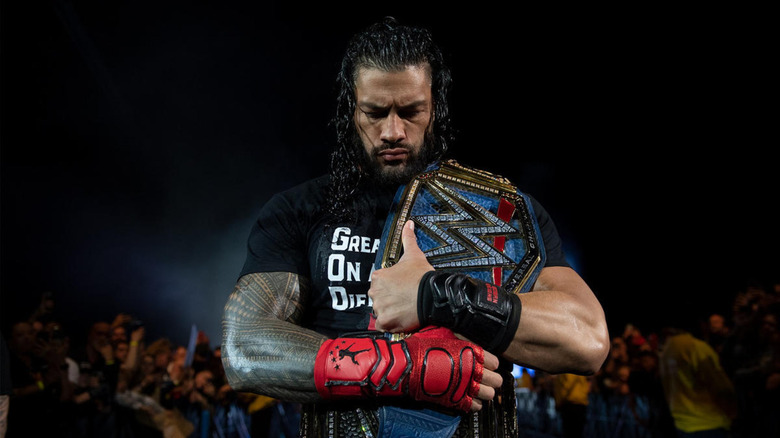 WWE
WWE has begun to fudge the numbers or un-fudge the numbers depending on one's perspective, in regard to Bob Backlund's reign with the WWE Championship from 1978 to 1983. They've begun to recognize Antonio Inoki's 1979 win over Backlund, splitting his reign and taking him out of the top three longest-reigning champions. "Busted Open Radio" host Bully Ray began to ask questions about this new company line and has since doubled down on his belief that WWE is getting ready to bring Roman Reigns into the company's holy trinity of longest-reigning champions.
"What WWE is trying to do, by recognizing [Antonio Inoki's WWE Championship win in 1979] is, 'Hey, we've gone back in our archives and upon doing so, we realize that Backlund's championship run was broken one night in Japan by Antonio Inoki,' thus making it a little easier for Roman to creep up on [Hulk] Hogan and Bruno [Sammartino]," Bully explained. 
Corey Graves was the first announcer to mention Inoki's win, but Michael Cole has also left Backlund out of the conversation of longest-reigning champions. Bully believes that is no coincidence.
"It's very hard for me to buy into Michael Cole making a mistake. He's a human being, it could've happened. But Michael Cole does so much research ... he doesn't make mistakes," he said. "The WWE doesn't make those kinds of mistakes when they are trying to paint a picture of what they want you to believe. There's a 1% chance that Michael Cole made a mistake."
Could Cody be a stepping stone?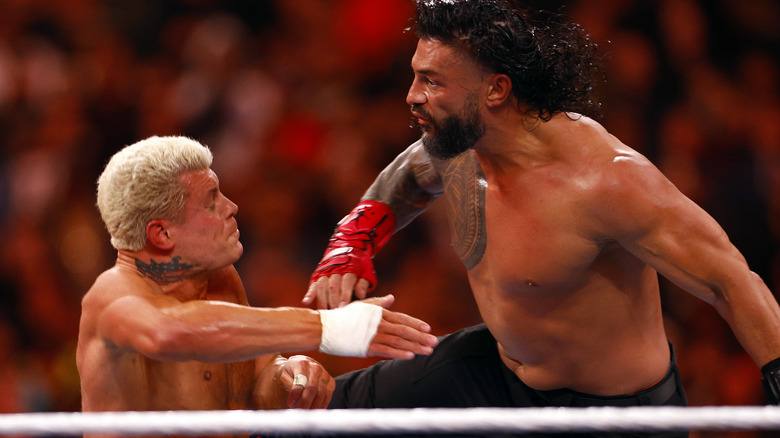 Ronald Martinez/Getty Images
Bully Ray thinks that anyone who has a gripe about WWE retconning Backlund's title reign is merely tilting windmills. But despite this Bully finds himself on their side.
"On this one, I kinda get it," Bully explained. "For years I've been going [online] and I'm like, 'Oh, there's Bob Backlund's name, he was my champion when I was growing up.' I mean I can't imagine how the staunch Bob Backlund fan feels about it right now about him possibly being ghosted." 
The former TNA World Champion has made bitter peace with the fact that his childhood champion simply doesn't have the cache of a Bruno Sammartino or a Hulk Hogan.
"Can't [retcon] Bruno, that's absolute sacrilege, he's number one," Bully mourned. "You can't do it to Hogan, they know the name too well. But if we get rid of Backlund, enough people have forgotten about him already, thus we have Roman creeping up on Hogan and Bruno."
Bully posits that eliminating Backlund is a sign that WWE hasn't picked a winner for WrestleMania 40, and they want to leave themselves open to Reigns dethroning Hulk Hogan's 1,474-day reign sometime in September 2024. His co-host Tommy Dreamer thinks it's less likely that WWE doesn't have a winner in mind, saying that his experience working in WWE creative leads him to believe they have a projected winner for WrestleMania 40, and also have an idea of what the WrestleMania 41 main event will be.
As it stands, Cody Rhodes taking on Roman Reigns is the rumored plan for the WrestleMania 40 main event.