Why Jake The Snake Roberts Says WWE HOFer Rowdy Roddy Piper Was 'Hard To Deal With'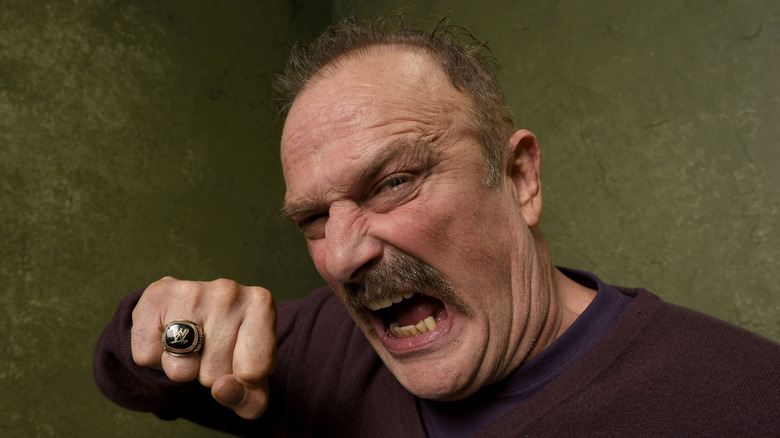 Larry Busacca/Getty Images
During the first wrestling boom in the '80s, Roddy Piper and Jake Roberts were considered by many fans to be the gold standard of wrestling heels in the WWF. Their approaches couldn't have been any more different, however, with Piper being loud, brash, and in your face, while Roberts was quiet, calculated, and intense. 
Roberts got to know Piper very well before he died in 2015, both in and out of the ring, and when asked about the "Hot Rod" during the latest episode of "The Snake Pit," Roberts stated there were two Roddy Pipers — the guy outside of the ring, whom Roberts was fond of, and the guy in the ring, who could be difficult.
"I loved Roddy man," Roberts said. "In the ring, he could be hard to deal with. He just had some things he wouldn't let happen. He was kind of funny like that. Like Hogan beating him wasn't going to happen, anybody beating him wasn't going to happen. That's just ... to me, that's just wrong. If you can beat whoever, and now you can't turn around and do the same for them? It's just wrong. That's just one example. 
"Outside of the ring, love him to death, man. I only had the traveling with Roddy experience three days one time, and it was an experience because Jake was a bad boy back then. We went from San Diego to some place, I don't know man, but we hadn't slept for two days."
Despite being co-workers in WWF for many years, the two legends only wrestled together on four occasions, all house show matches, with most of their in-ring encounters occurring before WWF in Jim Crockett Promotions.
To quote this article, please credit "The Snake Pit" and provide an h/t to Wrestling Inc. for the transcription